My husband's family has a reunion of sorts for all of his siblings twice a year - summer and winter. Most of the siblings live within three hours of his hometown, so we usually converge there. This year we went camping in some beautiful Wyoming mountains.
We camped a lot growing up. Real camping - backpacks and all. This wasn't real camping. We parked right off the mountain road and half of the families had campers. I was jealous.
Here are nine of the seventeen grandkids - what can I say, we are, for the most part (read: everyone but my children and me), Mormons. There are nine children in my husband's family and it's always a boisterous, fun group. The cousins are a fun group of kids.

After a morning of running around camp, almost everybody went on a four-wheeler/motorbike ride up the mountain. Hannah and one of her cousins stayed behind because they were picking princess flowers. That's very important and can't be interrupted for something as mundane as a four-wheeler ride.

I stayed back in camp with Hannah and Grayson and a few of my sister-in-laws. I got to hold my sister-in-law's brand new baby girl a lot more that way. She's only four weeks old. Grayson looks so big next to her!
After we'd packed up camp, most of us headed up to Intermittent Spring.
We had lots of littles with us, so this was the perfect hike for us.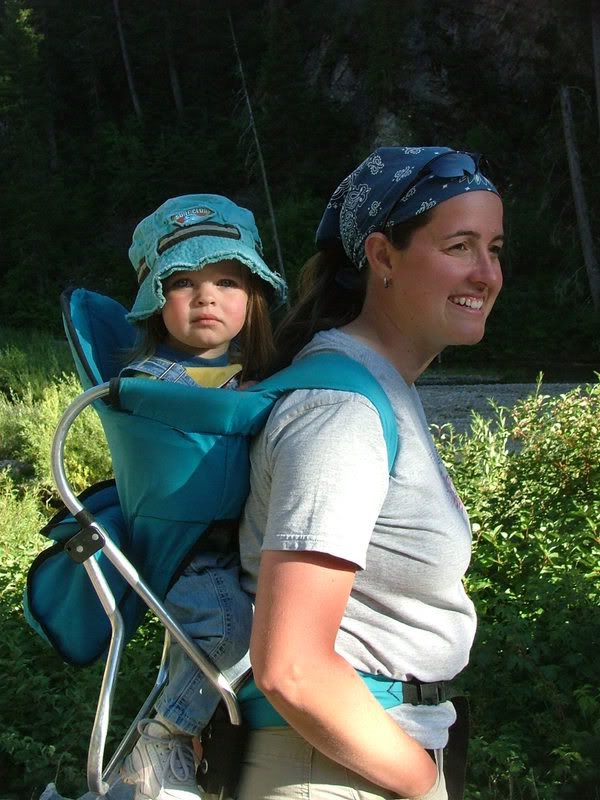 A ten minute hike up a well-groomed trail along the large stream.

Enough interesting things to keep the kids entertained, not so long that they got too tired, even wild raspberries for them to eat!


OK, so that's not the kids eating the raspberries, but they did pick enough for the kids to eat. You'll have to trust me on that.

Here is the view of the spring running at full power down the mountain. To the left of the spring is where the well-groomed trail ends and the abandon-all-hope-ye-who-would-drag-toddlers-up trail begins. We went up it.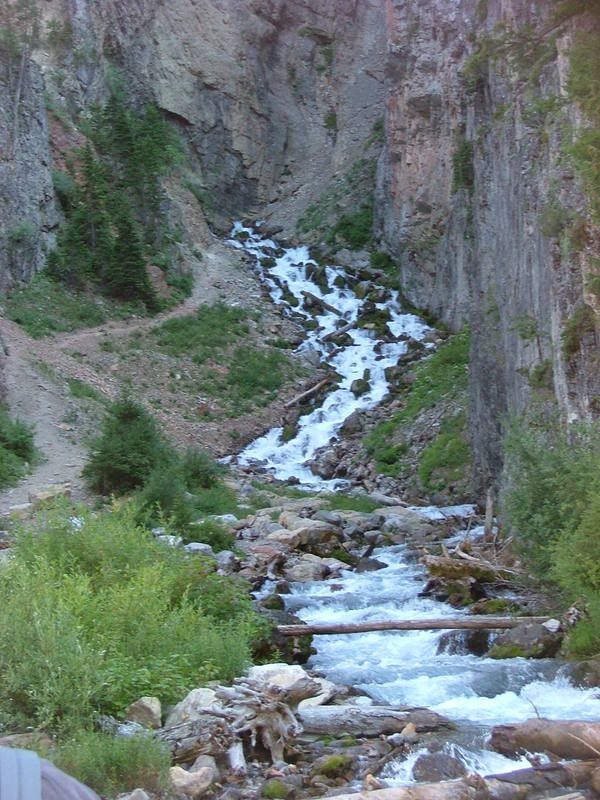 This was us smiling before we remembered we would have to go back down.
Intermittent Spring is a really interesting phenomenon - one of only three known natural intermittent springs in the world. The water gushes out of that hole for fifteen or twenty minutes and then, quite suddenly, the water stops. After another fifteen to twenty minutes, the water slowly starts back up and gradually increases the volume of water until it's gushing down the mountainside again. That's the basic explanation. Here's a more in-depth explanation.
I love this picture. I have a very patient husband. That weary rubbing of his eyes is about as cranky as he gets - with the kids. Matt had just hauled the infant and the toddler up the steep part of the trail and the four-year-old was having a hard time because of the periodic leg pains she gets that had hit her a few minutes before. Ains was tired and cranky (you can see her walking away from him crying) and Gray was wanting out of the carrier, so he was fussing and throwing himself backwards in the carrier.
And because these springs are so rare and I know you wouldn't want to miss an intermittent spring montage, here you go. I'm always thinking of my readers.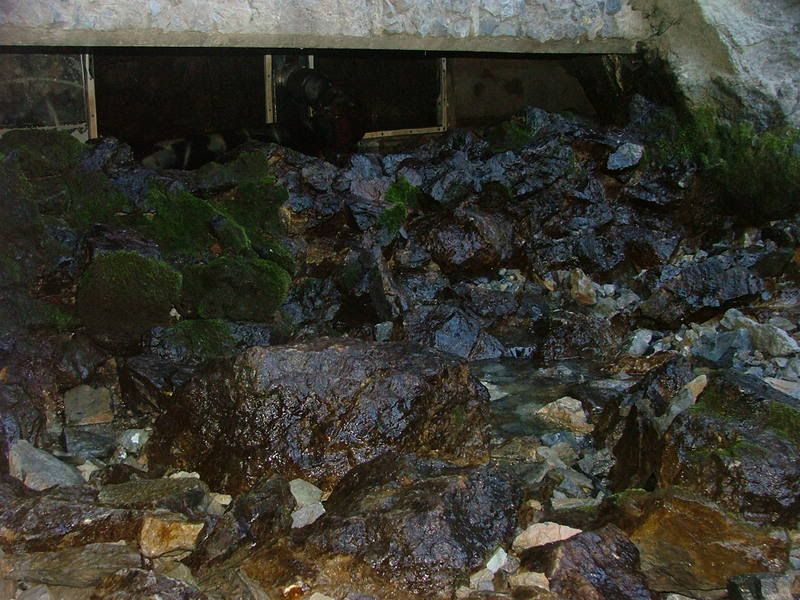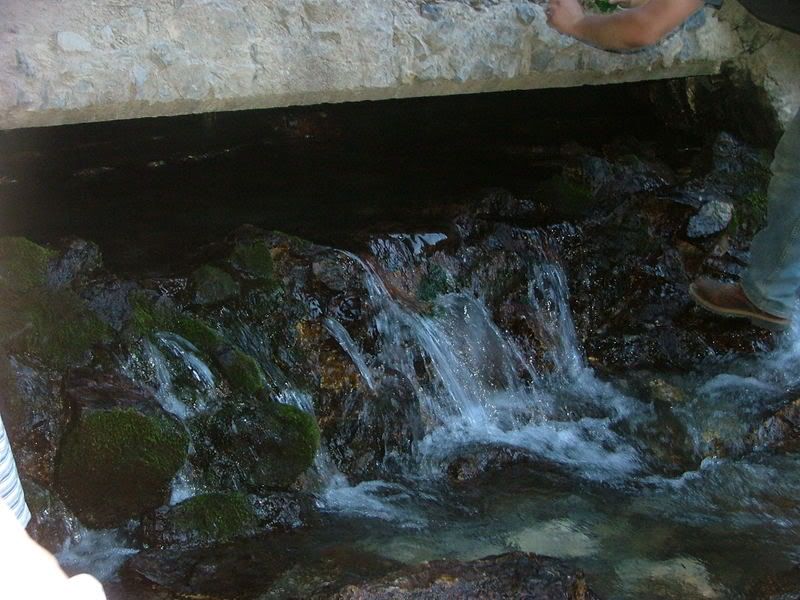 See the elbow in the picture above? That's Matt's brother making the decision to stay on the other side of the spring while it starts back up.
See that man? That's Matt's brother trying to figure out how he's going to get back over to where we are without getting wet in the now raging spring. To the left of the picture is a rock face that won't let him join us. To the right is the other side of the spring. He was in a quandary. I can't believe I just said "See that man" and not "See that boy".
The following picture is my favorite picture from the weekend. This is on our way back down the main trail. This is Zee. Cute little bug. She had that bandaid on her forehead for the whole weekend. She's going to have a sweet tan line.
Do you see that little hole beside her? That was on a huge cliff face. She was in front of us on the hike down but we caught up to her because she was sitting by the "baby bear cave". You know, if it had been me doing that at her age, it would have been to get out of walking for a few minutes. I saw a lot of cool rocks, beautiful flowers, interesting bugs, and amazing patterns in the dirt when we went hiking as kids. I got the impression that Zee was actually waiting for the baby bear to make an appearance. She's probably just a much better actor than I was at the same age.