Sorry 'bout that. Between computer issues and camera issues, it didn't happen. On to happier subjects --- Dumping Daddy.
This game wouldn't have been possible if Mother hadn't pulled out the hide-a-bed to look for A Very Small Thing that she needed. Or if Father hadn't said "Just leave it out. The girls are having fun on it. We'll lay a blanket on it to eat dinner."
It also wouldn't have been possible if Father had chosen anywhere but right up against the couch to lay on the hide-a-bed while his daughters sat on the edge to better watch their movie.
Nobody even realized this game was a possibility until Hannah and Ainsley both saw something that each one of them absolutely had to have and jumped off the bed at the same time to go get it. I didn't hear their screams at each other because they were drowned out by their father yelling as he got dumped right back into the couch and all of their dinner (spaghetti and white sauce, no less) landed on top of him. I didn't laugh.
Much.
After we got him cleaned up, the girls wanted to play this fun game again. So they dumped him.
Then climbed to the top to 'save him'.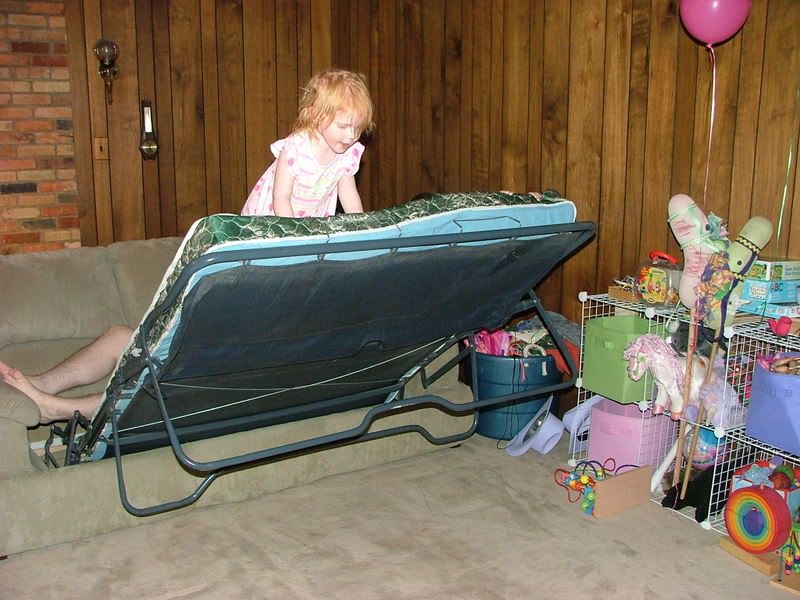 After their weight had pulled him back up, they climbed to the top again.
It was a treacherous climb at times.
But you learn the most from your mistakes, don't you find? She learned that it was more fun for her to climb to the top and slide down.
They played for a long time.
Their father was exhausted. Even better,
they
were exhausted.
Tired enough that a game of dominoes was appealing.