Hannah read a Little Einsteins book in which the Little Einsteins caught a leprechaun. She talked nonstop about leprechauns for several days, so when I saw 'leprechaun traps' mentioned on a forum as an idea for St. Paddy's day, I suggested it to her. Boy howdy, that set off some excitement. I'm not much for Hallmark holidays, but this might be fun.
First things first, she declared. "We must have gold chocolate coins." We must? "Yes. We must." Why chocolate? "Because, Mother, if we don't have enough money to rent all those movies I want, then we don't have enough for real gold coins. .... Do we? Can I rent a movie?!?" No. Let's find chocolate coins.
Five stores later, we found chocolate coins. When Daddy came home from work, she was waiting, bouncing up and down with excitement. They gathered the supplies and discussed the drawbacks and benefits of different ideas. Ainsley licked salt dough beads.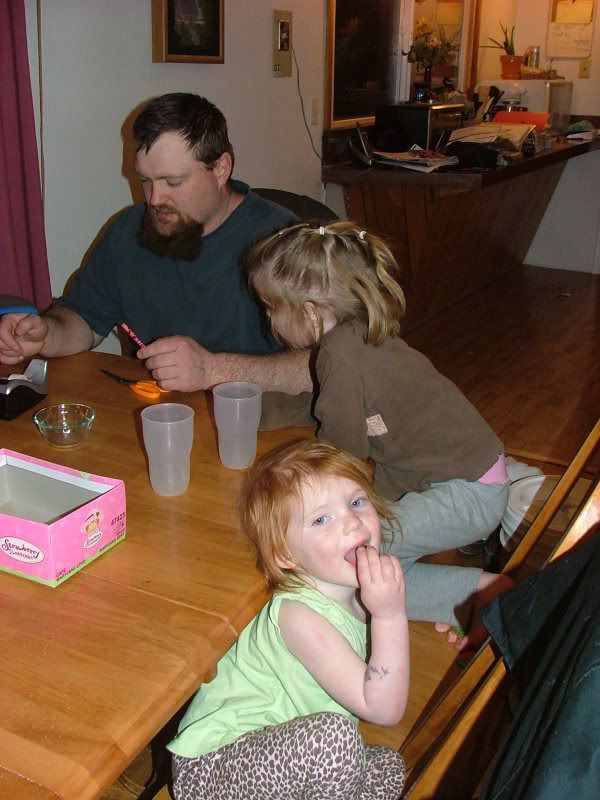 They put the trap together. Ains climbed on the table.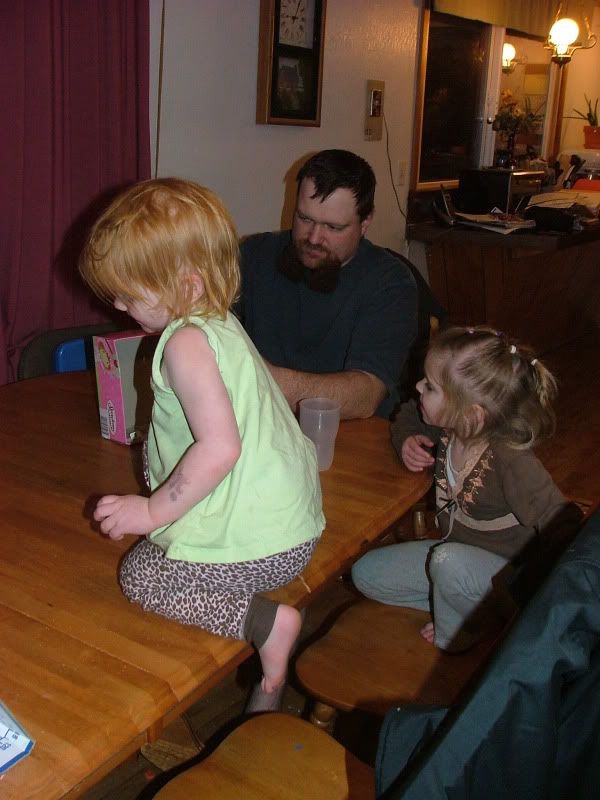 They tied the string from the pencil to a gold coin and placed the coin in the bowl. Ains worked on a wedgie.
Hannah covered the bottom coin up with a few more coins to fool the leprechaun...
and then added a note that said "Here are some coins, leprechaun. We won't hurt you. Hee hee hee." I tried to get her to leave the "Hee hee hee" off, but she thought it was necessary.
All done and ready for the leprechaun to get greedy.
Ainsley inspected the finished product. No matter what the body language in this picture tells you, she is not in charge in this house.
Then the girls practiced catching leprechauns with their Elefun nets. That was a good ten minutes of energy released right before bedtime. The girls' parents may have egged them on for another few minutes for purely selfish "please-go-to-bed-soon" reasons, but that's neither here nor there.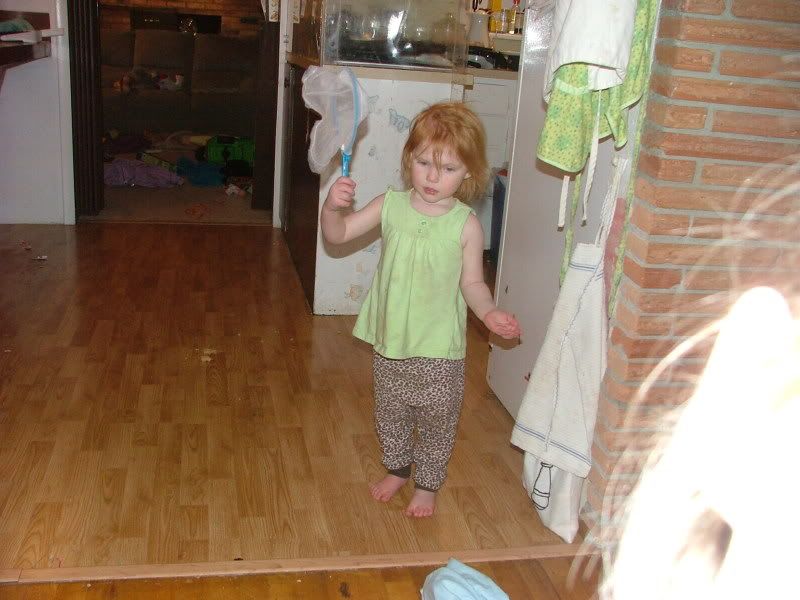 Hannah has informed her father that if this leprechaun trap doesn't work, she's enlisting his help in making a robot to use the Elefun nets to catch the leprechaun tomorrow night. It was her top choice for a trap, but her father talked her into trying the old box, stick, and bait method first.
When I mentioned that leprechauns usually live in Ireland, Hannah decided to enlist the fairies help in tricking the leprechaun. She took the nature art she made from her gathering expedition the other day ...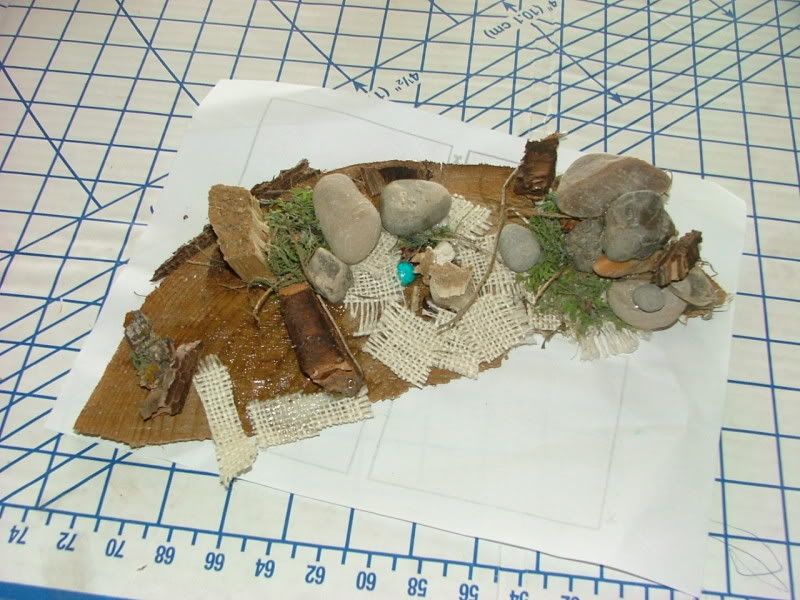 and stuck post-it notes all over it explaining her plan and asking for their help, because, in her words, "Fairies can talk around the world so they can tell him to come get his gold. Hee hee hee." She was careful to note that she was just catching him, not hurting him. Then she stuck it out on the porch table. She and Ainsley kept peeking out the window, looking for fairies, every ten minutes for the next hour and a half. We obviously didn't make them practice catching leprechauns enough.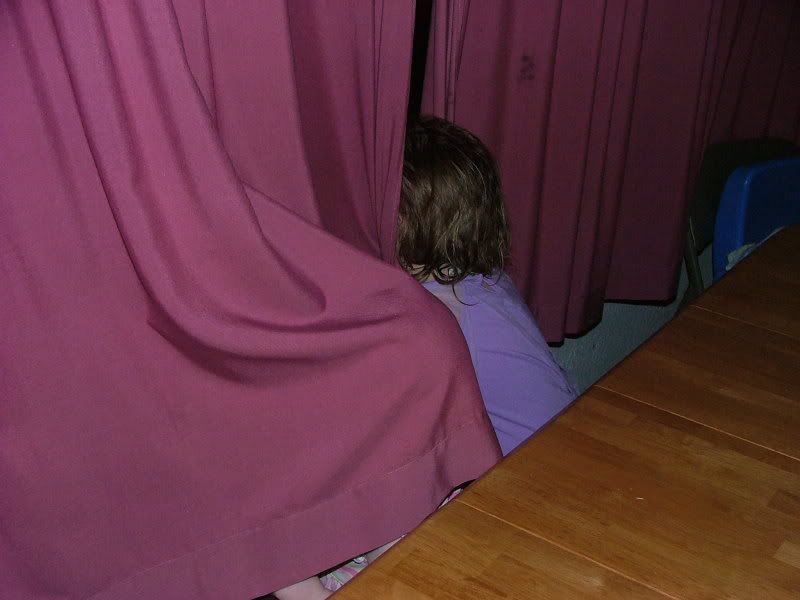 Ainsley wrote the fairies enough notes to make a book. She wouldn't tell me what they said. When I asked her, I got a pointed finger in my direction along with a "NO, momma. Mine talk fairies. Mine notes." Okay, then. A girl must have some privacy.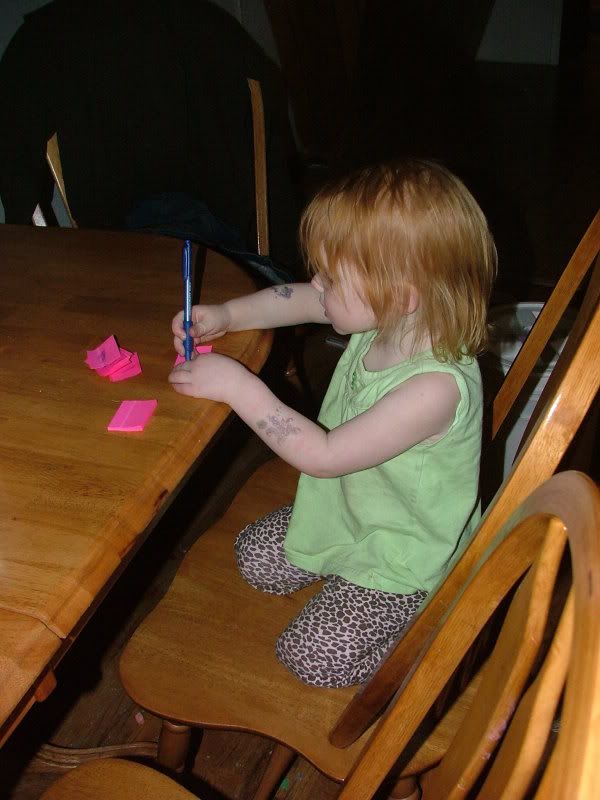 We'll see what happens tonight. We've told her that she only has until March seventeenth to catch one.
Does anybody have any good ideas for this? I figured that for every night he doesn't show, we'll find out more about leprechauns and use the new knowledge to try and catch him. I've got some leprechaun books on hold at the library for my husband to pick up and I have some interesting websites bookmarked. When we were in line at the store to pay for our chocolate coins, Hannah was telling the woman behind us about her plan to catch leprechauns and when she got distracted, the woman told me about a St. Paddy's day tradition they had when her kids were little. She said that while the kids were asleep, they would turn chairs upside down and do other generally tricky things around the house and blame it on the leprechauns. Matt thinks that sounds like fun. I am a wee bit skeered.