Hannah's been asking for a bike for awhile and we finally had enough money to get one. (Thanks tax return!) So off to our neighboring town's Wal-Mart to check out the selection. Three bikes for kids her size.
Matt stuck her on one and she pedaled around for a bit. One of the pedals fell off. Screwed it back on. Two aisles later it's off again. Next bike.
Matt stuck her on and she pedaled around for a bit. Took a turn too fast (2 mph instead of 1) and the handlebar alignment was off. Matt fixed it, but didn't want to mess with a bike that got messed up so easily from a kid tipping it over. Tipping bikes over is kind of par for the course when you're learning to ride.
Last one. Princesses plastered all over it (and $20 more for the privilege of the decals). She didn't get all the way down the aisle before one of the training wheels came off and she tipped over again. When Matt put it back together, he stuck her on and the seat twisted. We looked at each other and decided without words that a larger portion of the tax return was going to have to go to bikes.
We promised Hannah she would get her bike the next day at a proper bike store. We're snobby that way.
The proper bike store also had three choices. None with princesses. Which, strangely enough, Hannah didn't seem to mind. In fact, she ignored the pink choice altogether and went with the orange one. The orange one with the bee on the seat. "Did you know bees are eusocial?" she asked the salesman. "No, I didn't" said the salesman. "Yes, the boys are just for having babies. The girls do all the work. They make the honey. They're even the
guards!"
says she. "Did you see this pink bike with all the flowers?" says he. (Nice try, buddy) "Yes. Bees love flowers. Then they do the waggle dance" (she demonstrates) "to tell other bees where they are." He looked kind of bewildered and tried "Want to get on and ride it?" That worked.
Ainsley picked out a dark pink one. Grayson tried chewing on the tire of a nearby unicycle. I considered letting him.
When we got home it was dark (our nearest proper bike store is in 'the big city'), so Matt let the girls ride their bikes in the house. When Hannah went to bed, she wheeled her bike into the room with her. What a thing to wake up to!
In the morning we heard some banging and Ains said "Hannah up!" Sure enough, out she came.
But don't think I'm just giggling at Hannah's attachment to her bike here. This is what Ains was doing when she told me Hannah was up. Oatmeal on the bike. Thank goodness for training wheels.
After breakfast we headed out and Hannah got the first major taste of independence a kid gets after they learn to walk - riding a bike far and fast.
She also learned that riding on gravel isn't as easy as riding on a slick store floor and that riding downhill, while scary, is
thrilling.
Since yesterday, I go nowhere without neosporin and band-aids.
Wildflowers are so abundant right now that even bike riding can wait for a few minutes.
Then the wind overpowered her, so we went into the shed to escape it. We found a dead butterfly which made Ains very sad. "Buttfwy dead? No wings? No FLY??? *sob* ... Me hold it?"
So we looked very closely at the butterfly.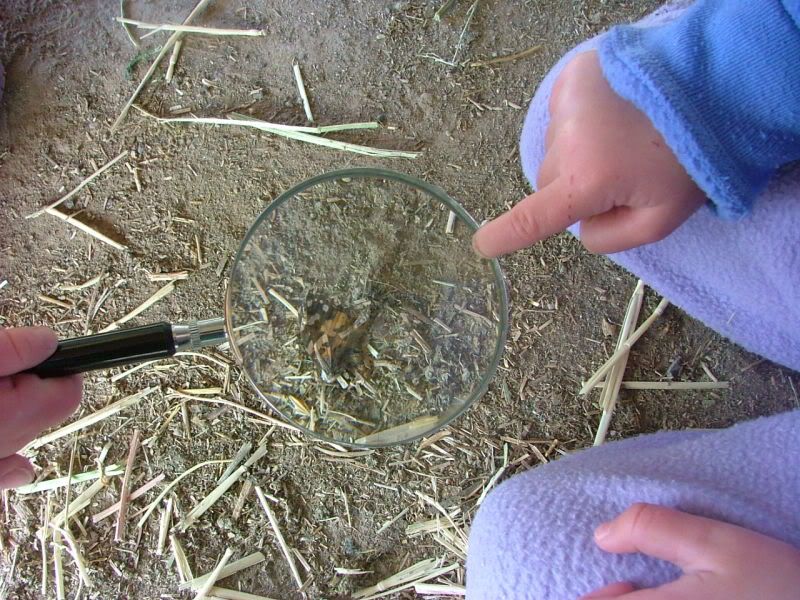 Very closely indeed.
Then Ains took the magnifying glass exploring. Baby goats...
and ponies.
And once more with the buttfly.