The kids and I went on a 'dry run' for our summer hiking today. What does that mean? That means we went with friends who could help me out if I'd overpacked or overlooked something or overestimated hiking ability of littles. It went wonderfully.
The hike we chose (out of
Hiking Idaho
) was a bit ambitious for a five-year-old and two two-and-a-half year olds, but not by much. It was a bit over two miles, but we covered that slowly. The terrain was not flat, but that added interest more than being too physically difficult. If I had remembered jackets for my girls, the wind wouldn't have affected them, and that would have helped.
We met up with our friends at a scenic overlook by the Snake River. Stunning view. Made scared-of-heights-li'l-ol-me lose my equilibrium just looking through the seven foot tall chain link guard fence, but my girls loved it.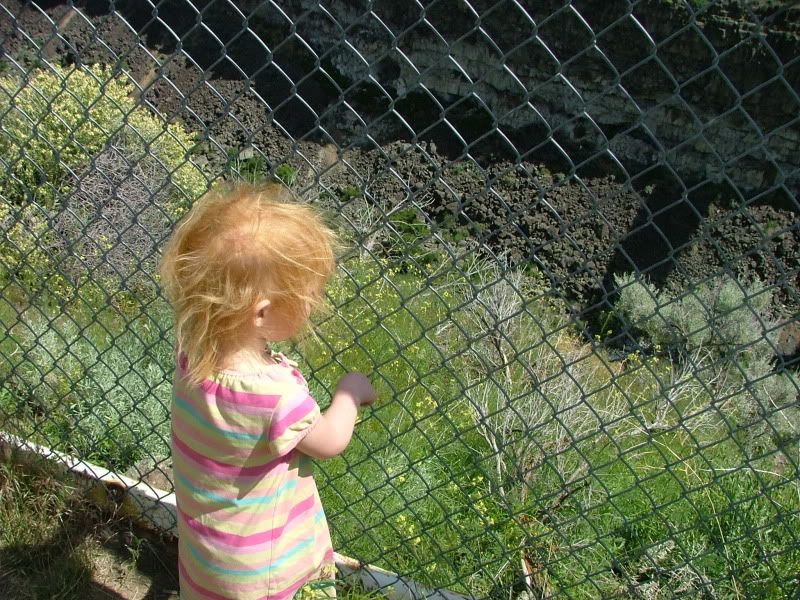 That is a deep canyon.
When we got to the trail head, I got all situated with Gray on my back and a waist backpack (I will *not* say that I wore a fanny pack) on under his bum. That carried a first-aid kit, water bottles, snacks, bird and flower identification pamphlets, a map, diaper change kit, bug spray, pocketknife, a compass, and my car key. Next time, when we're on our own, I'll actually be carrying more - a little sketchbook and pencils so that the girls will have an excuse to sit down and relax along the trail, a magnifying glass, jackets for the kids.
We started up the trail with the kids predictably running off their excitement for the first few hundred yards. The first mile or so of the trail was lodgepole pine, absolutely beautiful and I can't believe that I got no clear pictures of it. Next time.
The girls all found walking sticks. Bella just used hers like a
divining rod
- it found every puddle of water in or around the trail, Ains used hers as a sword (of course), and Hannah carried hers for a lot longer than any of us expected just in case she ran into a giant who needed a walking stick.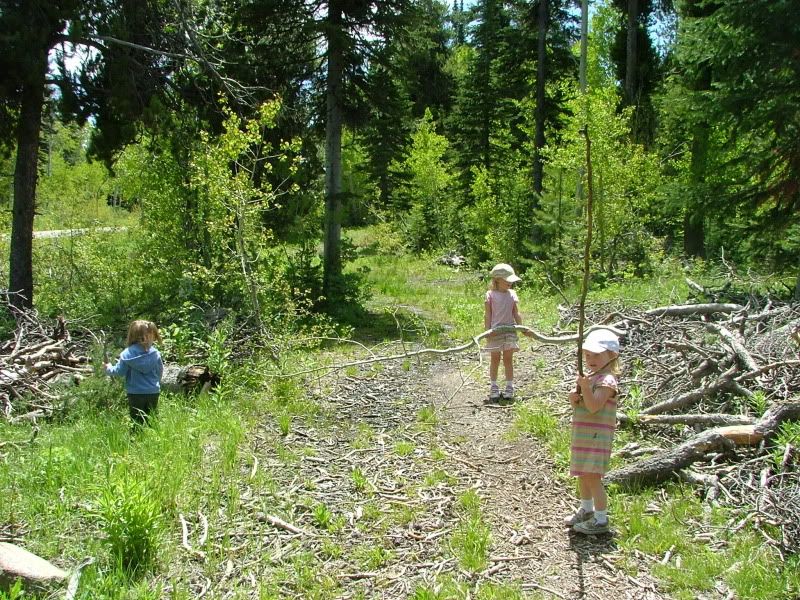 I'm going to try to find a mushroom identification book for the next time we travel this trail - so many different kinds of mushrooms in the pine tree section of the trail. Ains was excited about all the fairy houses and Hannah was so intrigued by the different places they grew, the different sizes and shapes ... I wish I knew how to take close-up pictures of these things.
After we got out of the pines, we passed through a meadow.
I expected the meadow to be much smaller than it was - and much warmer. The wind blowing across the top of the mountain was cold. It also passed right by a Boy Scout camp where we were almost run into by five scouts who shouted frantically "HAVE YOU SEEN A FLAG????" Um, no. And that's cheating. Keep looking.
I heard Jo singing "Climb Every Mountain" and turned around to see this -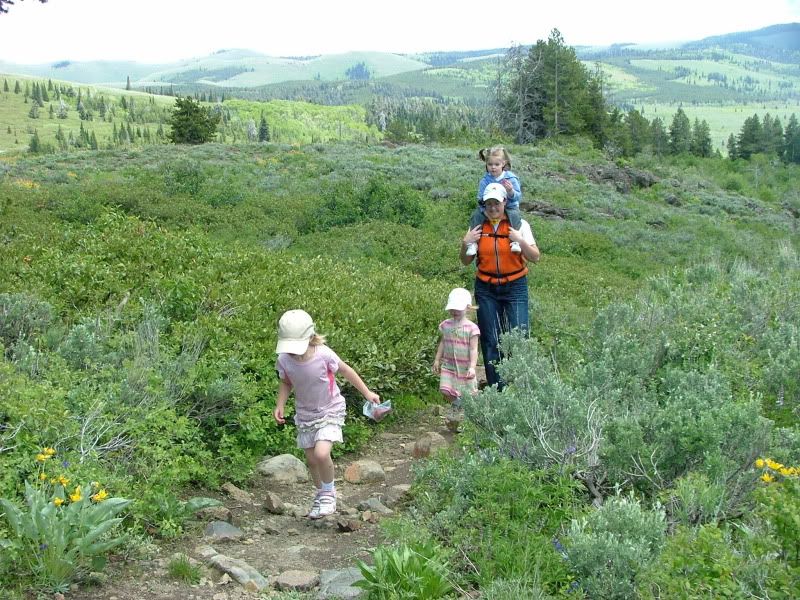 I like having friends who will unselfconsciously belt out fitting songs from musicals.
After the meadow, we descended into a section of the trail populated by Quaking Aspens. Cottonwoods? I don't know their appropriate name, but they were pretty. Hannah told her daddy that her favorite part of the hike was 'the trees singing when we left the meadow.'
We saw lots of these on the Quaking Aspens and on the trees dotting the entrance and exit to the meadow. Lots and lots of these little caterpillars just emerging from their egg sack.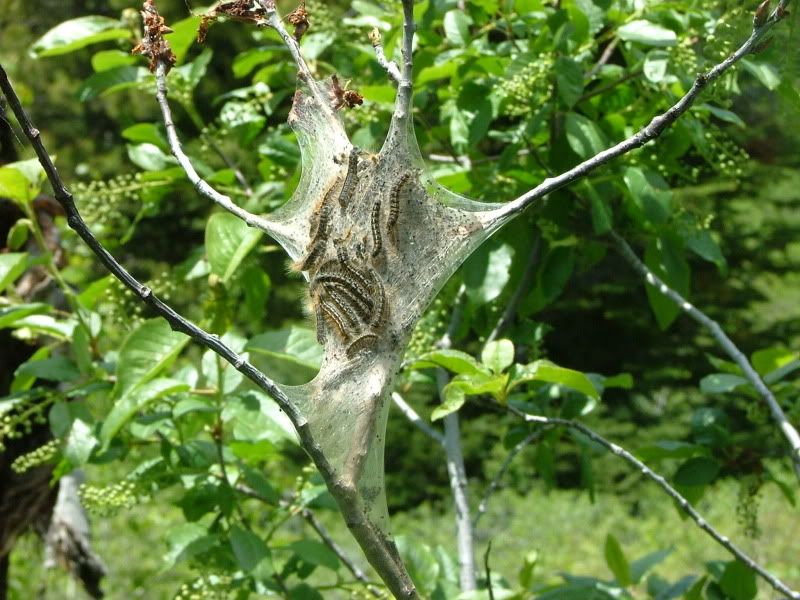 Ainsley learned the fine art of becoming interested in anything and everything when she needed to slow down.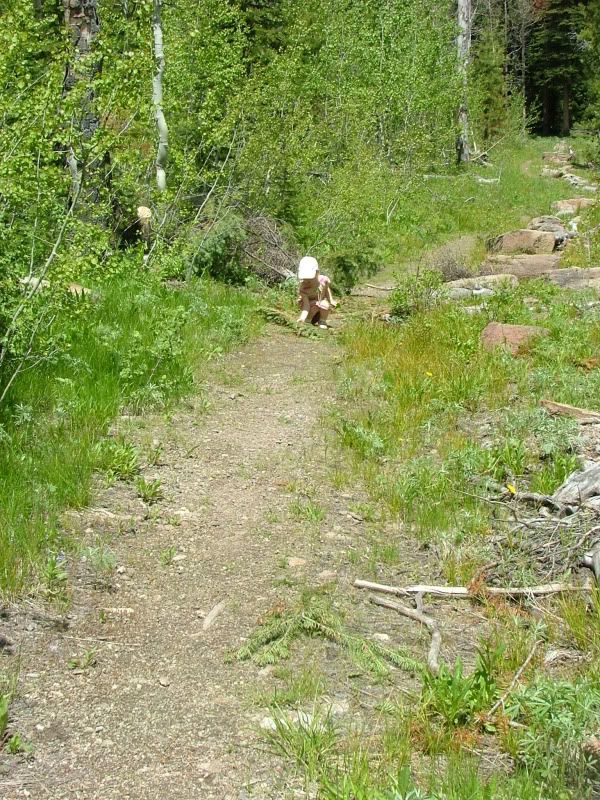 Then she recruited Bella to discuss her findings.
After we'd crossed through the Quaking Aspen section...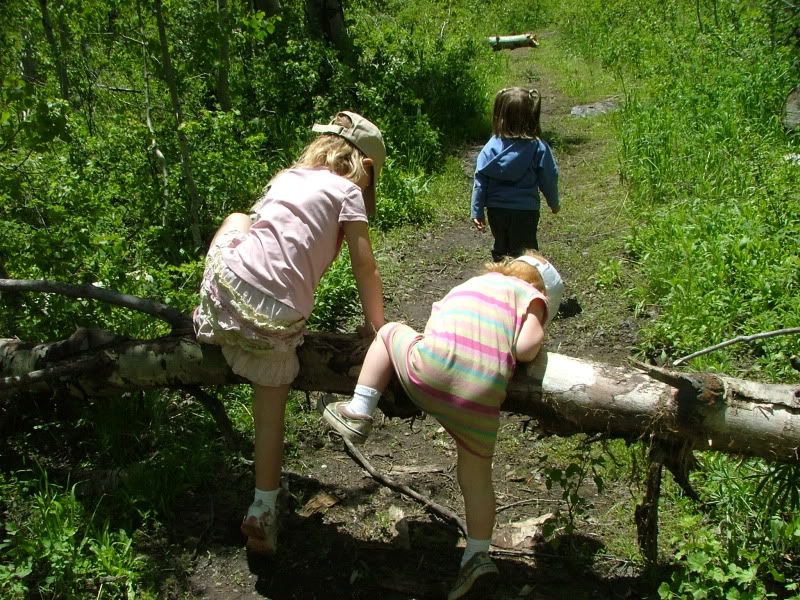 we crossed back into Lodgepole pine, and then to our cars. In the last section, Ains and I got ahead of the rest of the group and immediately were rewarded with lots of bird sightings. Ruffled Grouse, Pileated Woodpeckers, as-of-yet-unidentified birds that are captured in blurry images on my camera. It was exciting. And she saw three Bald Eagles. With red breasts, eating worms, natch.
Back at the trail head, we busted out a honeydew melon. (The amazing part of this photo is Grayson - not on my lap. He loved Reese.)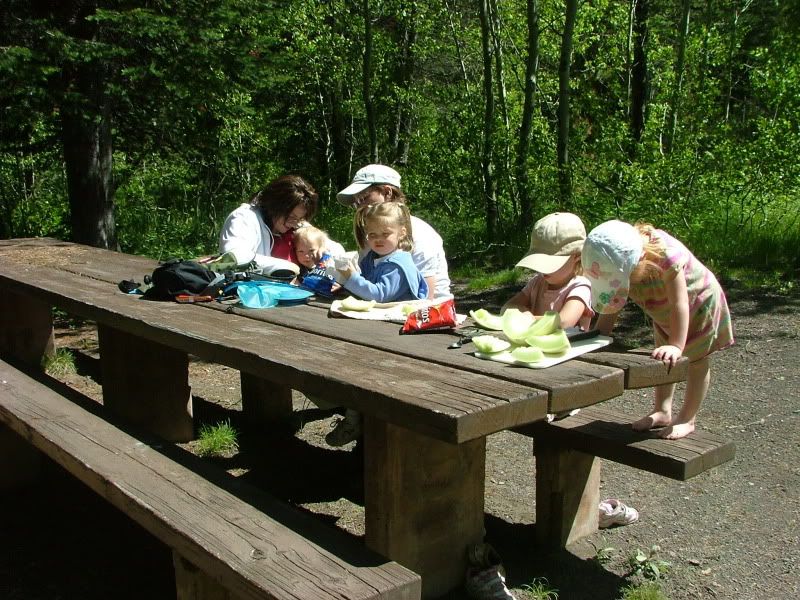 Then our friends left and we stayed at the picnic site for a bit longer, playing and chatting. Gray looks so grown-up.
I found these little pamphlets somewhere ... Barnes and Noble maybe? ... and grabbed them for just such a journey. Lightweight and laminated, made to be handled outdoors and by little hands.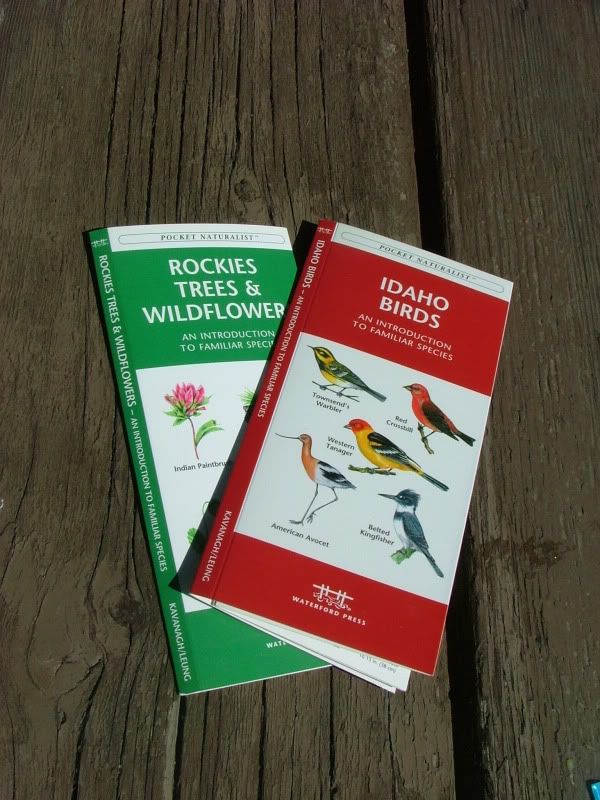 I came back from taking Gray and our stuff a few yards down to the car to see this - Hannah trying to find the birds she'd seen (Ains told Hannah she'd seen a Macaw in the forest and Hannah couldn't find it in the pamphlet - go figure.) and Ains at the other end of the table, staring at the yellow flowers (Heart Leaved Arnica, we discovered), trying to locate them in the flower pamphlet. It was endearing, this sight.
So that was our first hiking trip of the summer, and it was a huge success. I learned that I was doing a lot of stuff right, that I forgot some stuff, that going by ourselves will have some perks (not keeping to someone else's schedule), that going with friends has its perks (I laughed really hard and my girls adore Bella), and that it is nice, even when you live in the country, to get out in wild nature. It feeds the soul.
I think this has been my longest post ever. And I've paid for it dearly. Cygnus crashed at my feet about five minutes after I started downloading the pictures (which takes forever, Photobucket) and has been cheerily farting up a storm the entire time. Maybe he's frustrated that we didn't take him with us. Three kids was enough for me on my first trip out. Maybe next time.