First, before I forget, if you want to see a video I took of a cute little adolescent skunk,
go here
.
I decided that I wanted lilac streaks in my hair, so I called up my hair stylist - who is also a dear friend - and scheduled a time to come in when Matt could watch the kids. Then Hannah found out what I was doing and wanted to come with me. Then Ainsley wanted to come. Then Hannah wanted to get purple and blue streaks. Then Ainsley wanted to dye her hair "awwl da way pink".
Red hair doesn't take dye well, and Ainsley's hair is nowhere near long enough to even attempt streaks, so that was out. We've tried dyeing Hannah's hair with kool-aid before, but it would burn her scalp, so I didn't think this would go over too well. Still, she was adamant that it would be fine, and neither her father nor I cared if she did it. Hair grows out. So she looked at the color book with me and ended up picking pink. I stuck with the purple.
I've never had my hair dyed professionally before, so this was an experience for both Hannah and me. She watched me get my hair done and then she jumped up in the seat with no hesitation.
Of course, some of that lack of hesitation has to do with the fact that she adores Shannon. Like all hairdressers, Shannon is a pro at conversation and every time Hannah gets her hair trimmed, Shannon talks with her as if she were an adult client. It's lovely.
After we both got done, we had to sit and wait for the dye to sink in and Matt got his hair trimmed. Ainsley kept staring at me with a funny expression on her face, not unlike the time I shaved my head. I did look a little different with all that foil in my hair.
Ainsley *really* wanted a turn on the chair, so we told her that after I got my hair shampooed and rinsed, she could get her hair trimmed. The first trim of her little life. ("No, second," Hannah reminded me. "Remember when I cut her hair?") As soon as my body lifted off the chair, Ainsley's little body was squirming up into it. She loved her new little bob (she doesn't have much hair - especially for a nearly three year old).
After Hannah's shampoo and rinse, Grayson got the first trim of his short life also.
Matt loves it, I don't. I want my little baby back.
So this is how Hannah and I look now.
Hannah's is vibrant and much cuter in person. I was surprised at how fantastic it looks on her.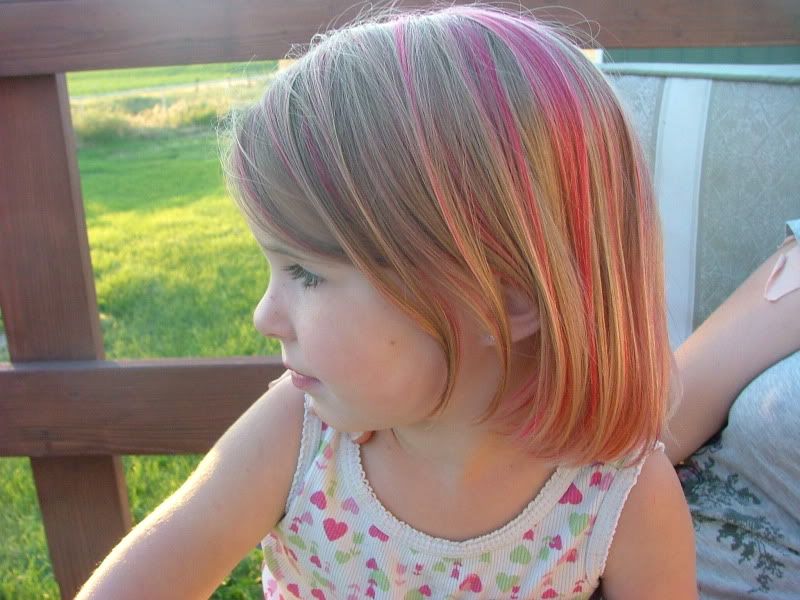 Mine is not so noticeable. I went to the store today and Hannah had to tell the cashier that her mother's hair was purple after which the cashier looked closer and said "Huh! You're right! That's really pretty." So it's not *exactly* what I was going for, but I am in no way disappointed. I like it very much.
In conclusion, this is what happens when Mother schedules a hair appointment for herself so that Father can watch the kids for a few hours by himself. The entire family gets their hair done.