A favorite blogger wrote
this thread
where she mentioned wondering if posting macro shots was honest or not. (In her opinion, it is.)
It made me think about the direction my own photos have taken as my blogging has progressed. Are my photographs that I show you predominantly macro, and if they are, is that necessarily a bad thing?
After looking back through several posts, I do think that my photographs lean toward the macro, but I don't think it is necessarily a bad thing. I have thought a lot about this in the last week since this blog is a journal of sorts of my parenting and homeschooling journey and I want it to be honest.
So when Ains was going through a chubby toddler phase and I couldn't stop taking pictures of her little hands building things but zoomed in just on those hands, was I "prettying things up"? I didn't consciously crop out the toy mess around her when she was playing with the blocks, I just aimed the camera at what I saw - what was important to me.
I had not realized until I thought about it over the last week, that over the past year, as my blogging focus has narrowed (I started this blog, not as a family blog, but as a journal of our journey - my family blog died a slow, lingering death once I started this one), my lens has narrowed also. I've allowed myself to tune out that mess for a bit and focus on my children playing. To zoom in on an especially ridiculous part of a dress-up outfit. To find, and highlight, the little bits of magic in our lives (the little bits that could easily be drowned in 'other'). I'll focus on the other later - on Snapshot Sunday, maybe.
But I haven't 'lost my focus' completely. Looking at snapshots that I took at the fair yesterday showed a nice blend of normal wide shots and macro shots.
While looking at these pictures, I noticed that I was trying to capture on film the details that had captured my eye when looking around. Some details *were* small, like the handle of that toy gun.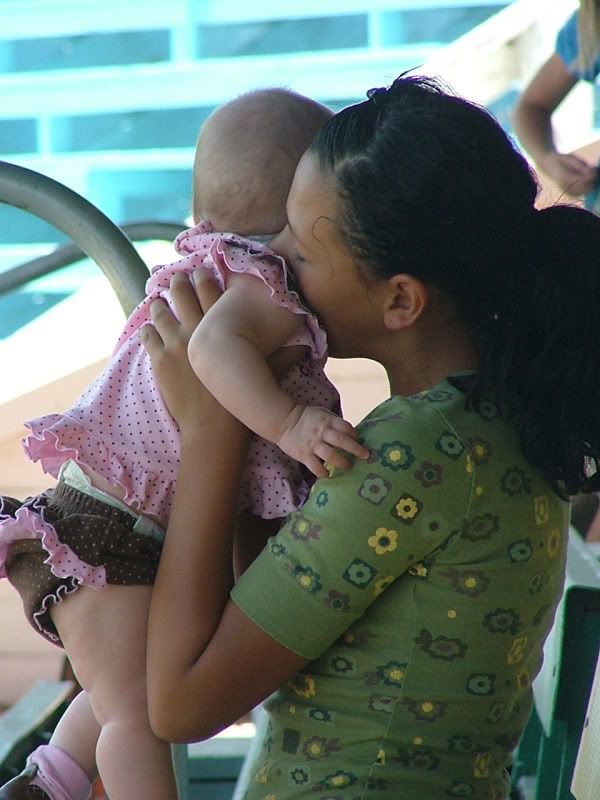 Some were bigger, like a girl blowing bubbles on her little sister's neck. Still, I left out the 'clutter' around her that I still remember - her dad telling her to be careful with the baby in the stands and then getting distracted by his sons walking along the backs of the benches. That wasn't important to me.
These cowboy boots and the little girl that wore them were adorable - I took one picture with her looking toward me and it didn't have the same feel to it. I didn't include the five adults gathered around her talking - her small body and the tiny boots drowned in that much action.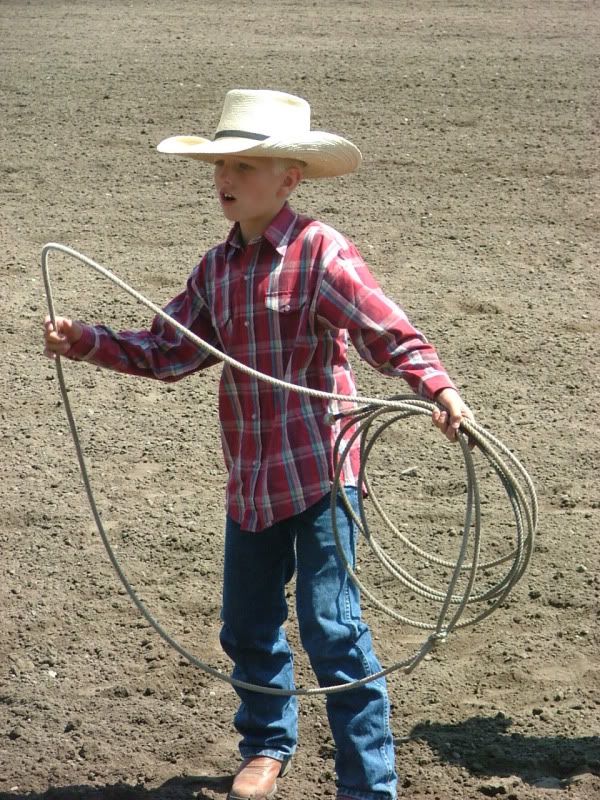 I didn't include the boys that this kid was obviously talking to (and roping, by the way). It's not a well set up shot, but it captures the essence of little cowboys.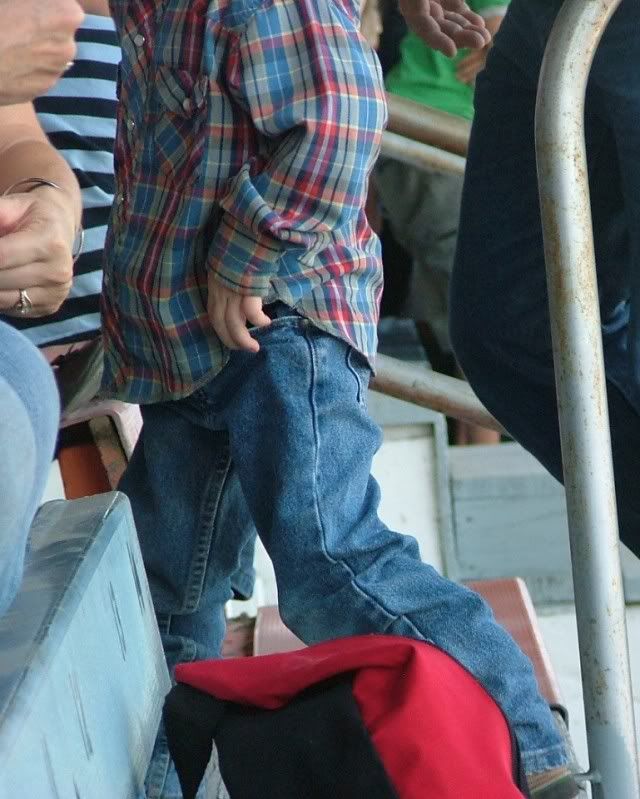 As did this one. Three-year old cowboys are too cute for words, but between this picture and another full body shot I took of him, this one had the most punch.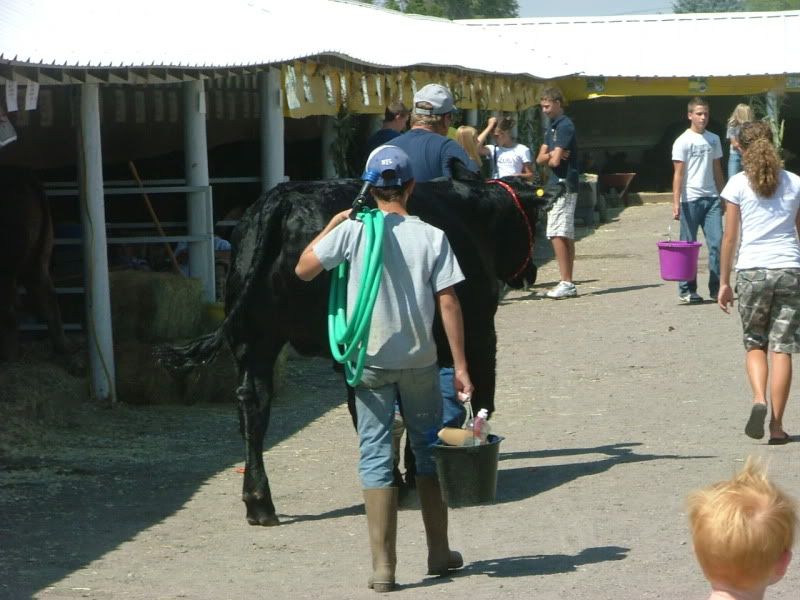 And then there was this shot. I had several shots on my camera of macro views of this scenario, but this one, the shot that originally caught my eye, is what I kept. I didn't see the hose or the halter or the boy's boots when I first looked at this. I saw what you see here, and that's what I wanted to keep, to blog about.
So I guess what I'm saying is that I hadn't realized that I do this, that I have nurtured looking for beauty in my life to the point that it's not just the way I aim my lens anymore. It's the way I look at the world, so it's what you get when I share my world with you. Sometimes wide-angle, mostly (it seems to me) macro.
And I'd really like to know - especially if you're a lurker - do you like seeing shots like that? Do they feel honest or dishonest to you? Do they make you want to look for the beauty in your own life more? (One of my favorite blogs whose title,
Ordinary Life Magic
, says it all, was one of my inspirations for narrowing my focus.) How do you take shots for your own blogging goodness and memory keeping?
I'd really like to know. Because it's such an interesting idea - that your camera is not just there to take a group picture at a family get-together and record a basic memory, though those are priceless, or to take hundreds of carefully set-up wedding portraits (not that I'm bitter) but to record what the photographer is seeing, maybe even what they're feeling, definitely what's important to them, and what they want to share with those who might care.