You see this sign?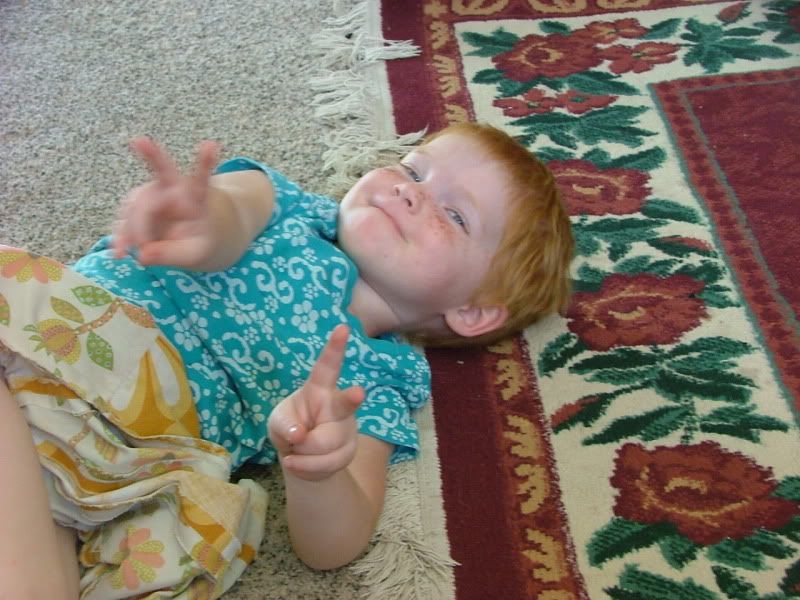 It's one of my favorites, and it has three meanings.
Peace. Specifically "Rock Obama say PEACE." Pulled out when mommy gets 'canky'. She learned it from her sister who coined the phrase after one of the presidential-nominee debates last year. Barack Obama did indeed say 'peace' many times in that debate. It's been a year and the phrase - and sign - is still going strong.
It also means "I love you." Hannah and I have always done the actual 'I love you sign' with each other, but Ains' little hands couldn't do it. She tried, and her efforts produced this sign. It has become our own 'I love you'. I love it.
And it means 'two'. As in "I am two." As in "I am wittle, right Momma?" She flashes that sign and a proud "I too-an'-haff" to anyone who asks her name, compliments her hair, or glances in her direction.
Today is the first day of autumn. She was born on the first day of autumn. This year, her birthday falls on the day after the equinox and my little girl is so excited that tomorrow she will be 'free'. Three is so big in her mind. Overnight, sometime in her dreams, she will go from being 'wittle' to big.
Tomorrow that sign will have only two meanings.
It shouldn't be this hard. I was so excited for Hannah to turn three. I don't want Ains to go there. I want to wrap her up in two and hold her there for just a little bit longer.