My sister's been here for the last two days to help with a doll making project.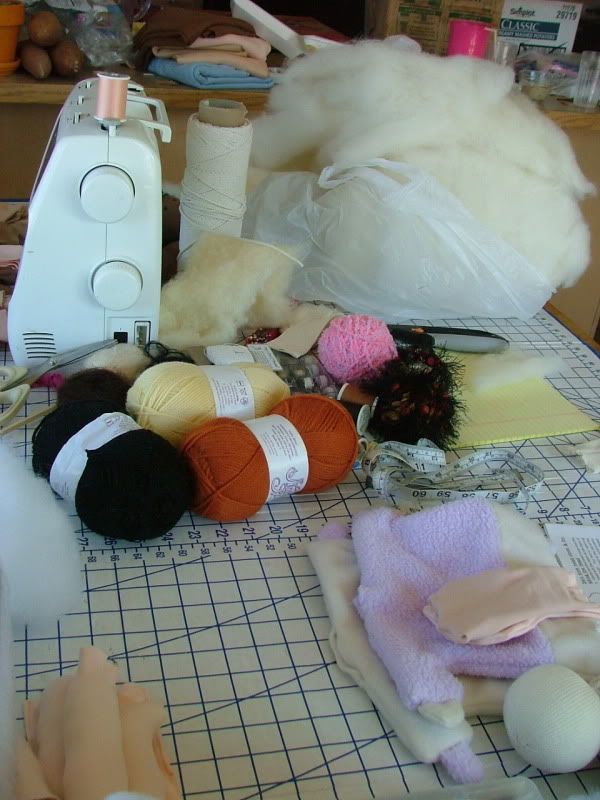 This morning Hannah asked if *she* could do a craft. Because I'm brain-dead from making too many dolls, I asked her if she had any ideas. She suggested painting on wood with acrylic paint. I revived my brain long enough to come up with another idea. I do *not* need to be wrangling acrylic paint while I'm stuffing doll legs, thank you very much.
"Draw a monster," I told her. So she did.
And so did Ainsley.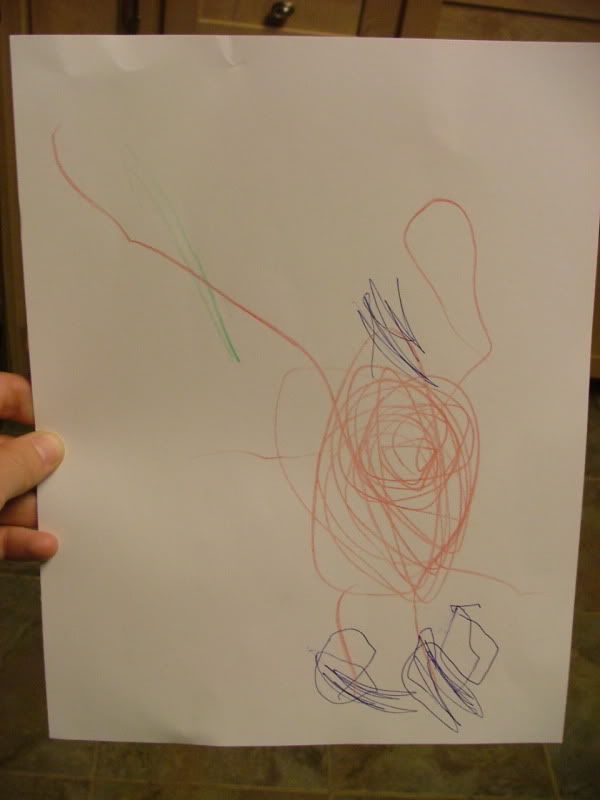 While they did that, I rounded up some supplies. Felt, the button jars (of course), thread, stuffing, yarn ... And then we set to work 'interpreting' the pictures.
Since we've never done this before, the girls had drawn without picturing their monsters off the paper. Now they got to pick a color, add texture in the form of buttons, embroider expressions, and pick yarn out for hair. It was such a fun process and we have lots of ideas for more texture we can add to future monsters.
I folded a piece of felt in half and cut out the front and back of the monster together. Then I laid out the top piece and had the girls match the fabric up to their drawing/imagination.
When they'd decided how they wanted their monsters to look, we started sewing them. Hannah could do a lot of the work herself - the buttons, the ribbon toes, and the smile - and I did what she couldn't.
Ainsley couldn't do much but explain to me what the different parts of her drawing were ("It's a COWBOY monster, Mommy!"), but every so often, a set of little pudgy hands would try to help me sew a button on here or do some embroidery there.
Once we had all of the embellishments and expressions added, we stuffed them. First we used all of the felt and thread scraps and then we added in stuffing.
Hannah's monster was fairly straightforward and easy to translate from paper to felt. Here's her drawing again ...
And the finished project (which is cuddled up to her as she sleeps right now) ...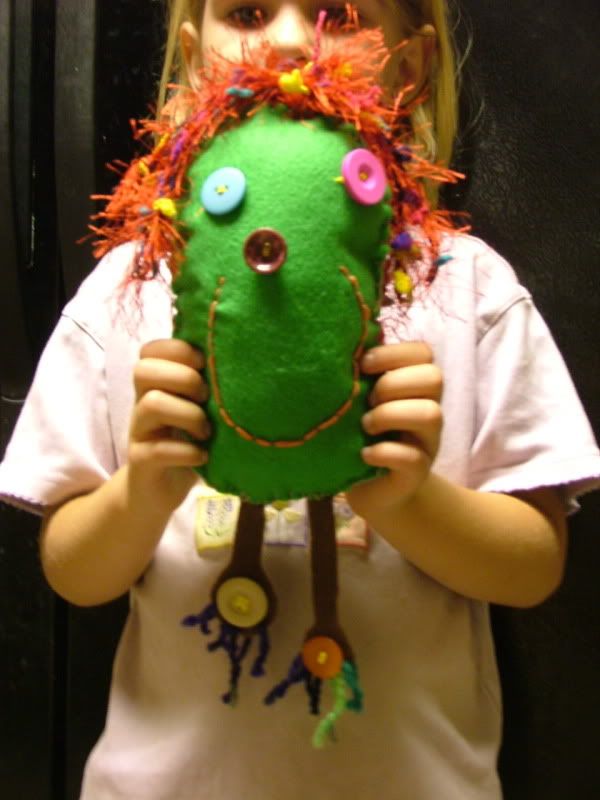 She had an absolute blast doing this project and has three more monsters (and another one 'just for GrayGray') laying on the counter, drawn up and ready to go.
Ainsley's finished monster is true to Ainsley Style, with a diamond necklace, a bow in her hair (between two of the three eyes), a flower in her hand, and a cowboy hat and boots - most of which I wouldn't have understood without her explanations. I cut the monster out using the outline of her drawing - I thought about embroidering the many circles and then, thanks to my ever-sensible sister, decided not to. I'd still be sewing.
Here's her drawing again ...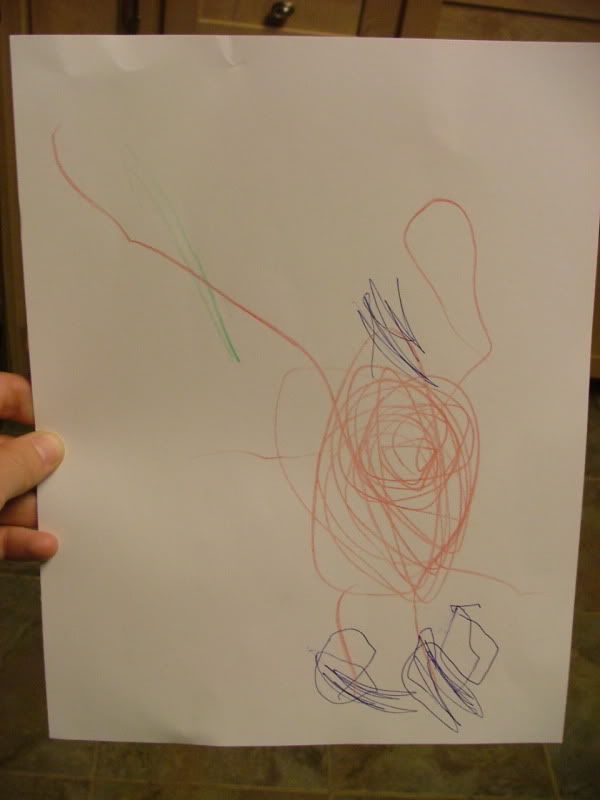 And the finished project ...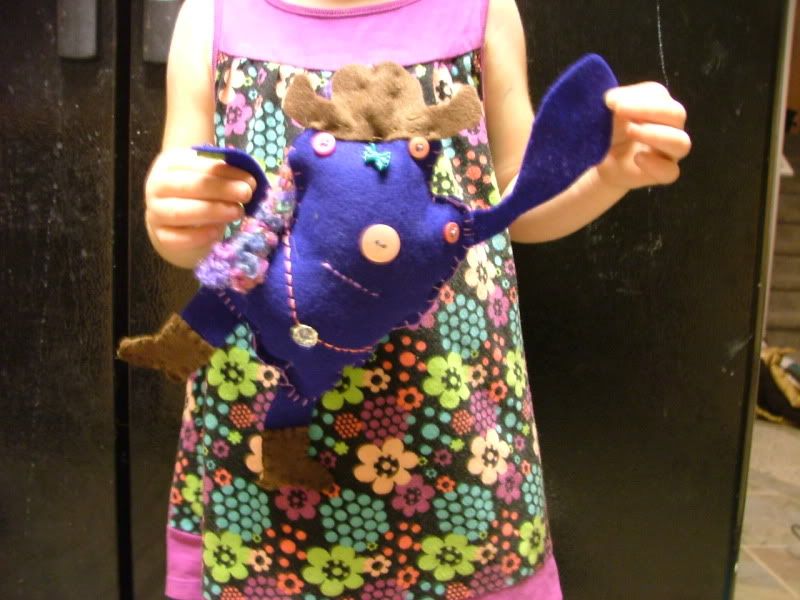 "She so coooot!" was what Ainsley said when she'd inspected the final project.
She wants a ballerina monster next.
Their cousin wanted a monster too. Her drawing was a bit more ambitious.
And her mother, for all of the sense she talked into me over Ainsley's monster, did a heckuva job making a patchwork monster to match the picture.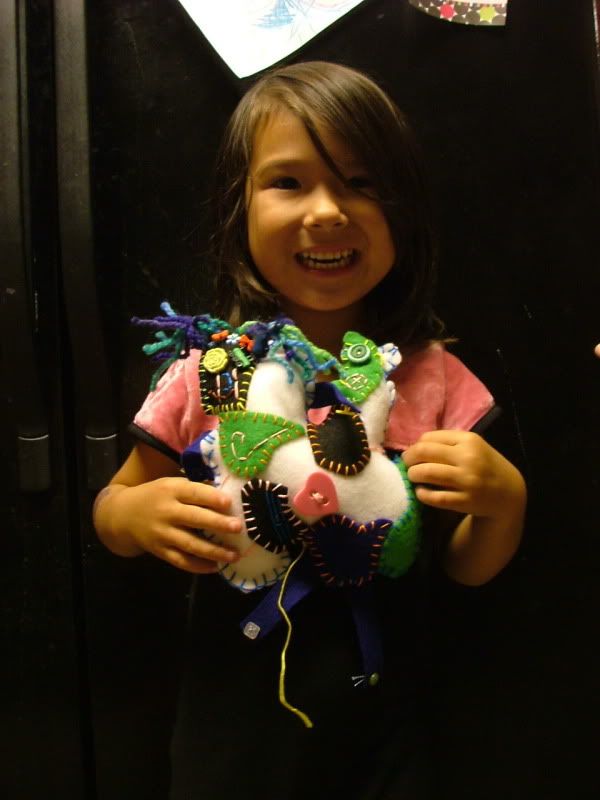 Think 'monster bird. It's so fun. Very tactile. The ribbon hair (above the black face) is so sweet - little pigtails.
When I was discussing the picture with my niece, trying to decipher heads and tails and legs and eyes (she's got several by the way - some on her head and some on her tail), I pointed to the line on the bottom of the monster and asked "What's that? Is that it's leg?" Because, you know, if it had been Ainsley's monster it would have been a leg. Or possibly a penis. "No, it's PEEING." she said. She seemed irritated that I even had to ask.
So my sister - because she's awesome - put it on the monster. When I was taking the picture of the monster, my niece asked "What's this thread?" pulling on the yellow thread. "That's the pee, of course," I answered. She dissolved into giggles.
I wonder how many more of these monsters we'll make - I have some drawings waiting on the counter, a ballerina monster in another daughter's head, and my sister has another drawing that her daughter made.
Easy, fun craft - and cuddly to boot!