Editor's note:
This is the second guest post I've had on my blog. The first one is here. I can't believe it's been two years! We went to a craft fair this morning and Hannah wanted to take some pictures herself 'so that I can write a blog.' Then she told me what to write for each picture. Enjoy!
My mom gave us some money when we went to a craft fair today. It was kind of fun. I got some earrings. One of them was for my sister, but they were too pretty, so I kept them. She got a doll crib that she loved.
I took this picture because I thought the white purse was pretty. I bought two purses. They were almost a dollar each. They had a tiny chocolate bar in them. I got them because I thought they were the right size for my Nettie doll but they weren't. They were the right size for her hair, though, so I made her a hairdo with two purses. I should have gotten a picture of that.
These socks were there too. I tried to get a picture of the rainbow colored ones, but the camera must have deleted it. Those were my favorite. I wanted to get them for Aunt Ria's baby, but I didn't have enough money.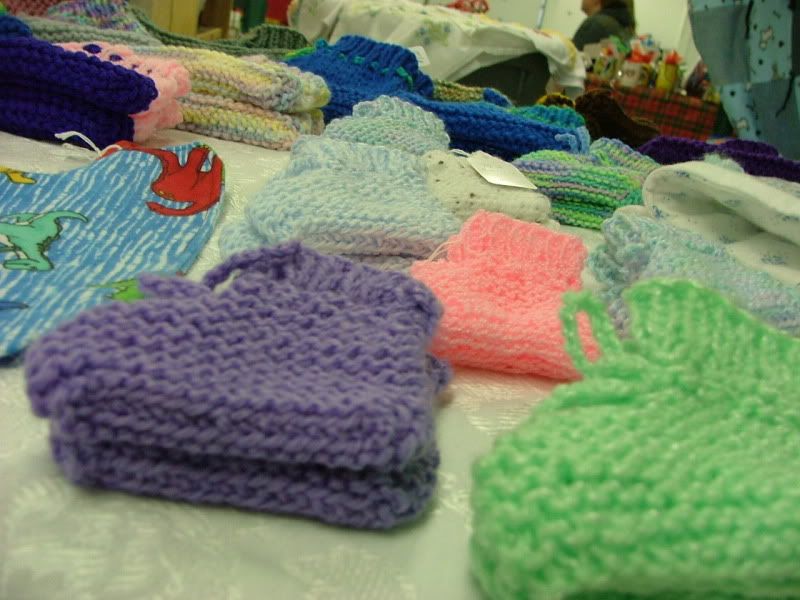 The sun must have been in the candy dish for it to look so blurry. This candy was at a jewelry table. I wanted some jewelry, but the candy was free, so I got a piece of candy instead. It wasn't very good.
These are pictures of a dollhouse that was there. I really liked it a LOT but my mom said it was too expensive.
(Editor's note: It was $595. Just sayin'.)
I like the tiny door and the window in this picture.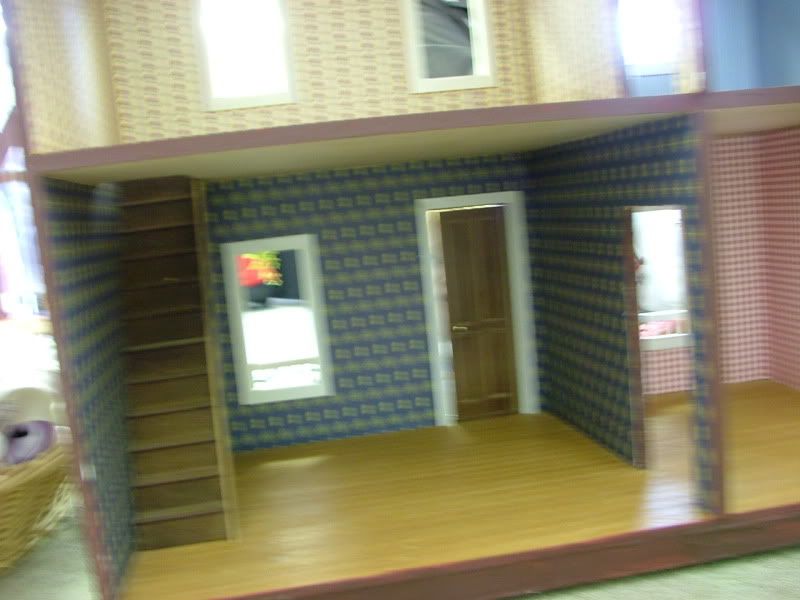 This picture is too dark, but I like being able to see that old man in the window. It makes me think that I caught a glimpse of an old snowman walking by.
The wallpaper in this house was good. We only have white walls in our house. I want pink walls in my room. And a pink ceiling. And a pink floor. So this picture is to show my dad what I want in my room.
The lady had fake snow surrounding the house. You can see it in this picture. It was pretty cool.
The windows were so pretty. the brown roof is pretty too. The lady should have put snow on it.
This would be my bedroom if I lived here. Then I could come out the window and walk on the roof.
Isn't the snowman's hat funny? And his tiny eyes make me laugh. He looks like he's squinting.
The plants hanging on the porch were really pretty, but they don't make much sense. She has snow on the ground, after all. Who has plants hanging outside in the winter? All of our plants here are dead. She should have bird feeders up.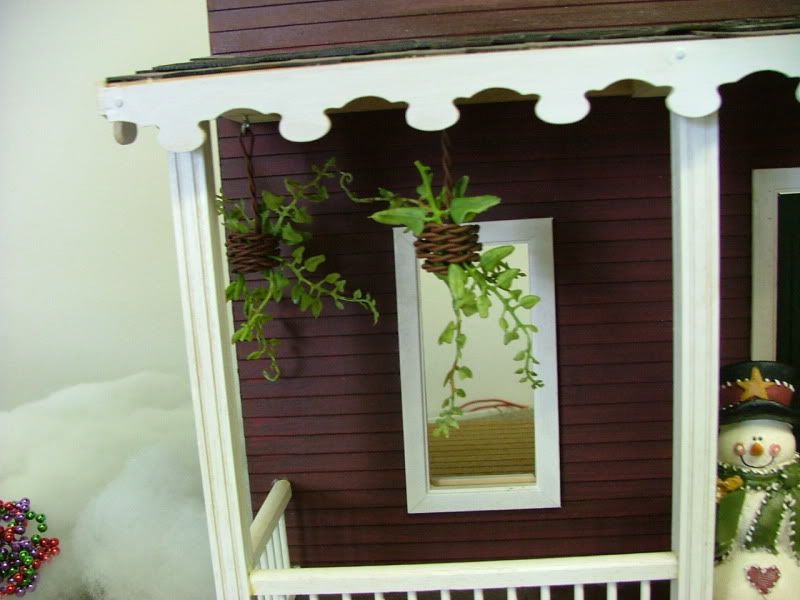 This is a movie I took. The snowman is running around on the porch yelling at the little snow kids running around. I think they're throwing snowballs at him. I'm frustrated that you can't hear my voice. I was talking quietly because people were listening to me, but now you can't hear me.
This is a picture I took when we got home. It's too fuzzy, but it's cool if you squinch your eyes up a bit. I stood some of my horses on top of each other and they look like the Crazy Bremen Town Musician Horses. I have more horses but they kept falling over, so I just got this one.
Now I'm going to read Calvin and Hobbes with my mom. My Aunt Ria let us borrow her Humblecidal Cycle Jungle Cat
(Editor's Note: That'd be Homicidal Psycho Jungle Cat)
book. She has thirty-eleven Calvin and Hobbes books and they make me laugh SO hard.