Got busy and forgot to post Christmas. Then I went through my pictures organizing them, and had to put some up. Here it is.
First, Hannah's present to Ainsley.
My parents did something fantastic at Christmas. All ten of us kids gave a gift to all ten of our siblings. It made for a marathon present opening session on Christmas morning, but it did something wonderful for us. We all got excited about what we were getting, but were more excited about what we were *giving* and the response of the recipient. There was a lot of whispering, secret meetings, and giggling leading up to Christmas. My mom even involved the youngest by having them pick cookie shapes, decorate, box, and wrap them for each sibling. When you got a box with five cookies in it that were more icing and nonpareils than cookies, you were expected to be very excited about it. Ten kids on a sugar high for four days must have been a sight.
This year was the first that I saw Hannah (or Ainsley) really get into the giving. It didn't start out smoothly. Hannah found a mermaid and a truck for her siblings which she hid under her coat in the cart. She then spent the rest of the trip suggesting things that Ains could get for her.
Gray decorated cookies for both. Ains worked hard painting the nutcracker ($1 at a craft store) for Hannah, who has a thing for nutcrackers, and she made chocolate candies for our little candy vaccuum. Hannah assembled and painted a fire truck for Gray ($1 at the craft store) and she took four days to assemble this for Ains.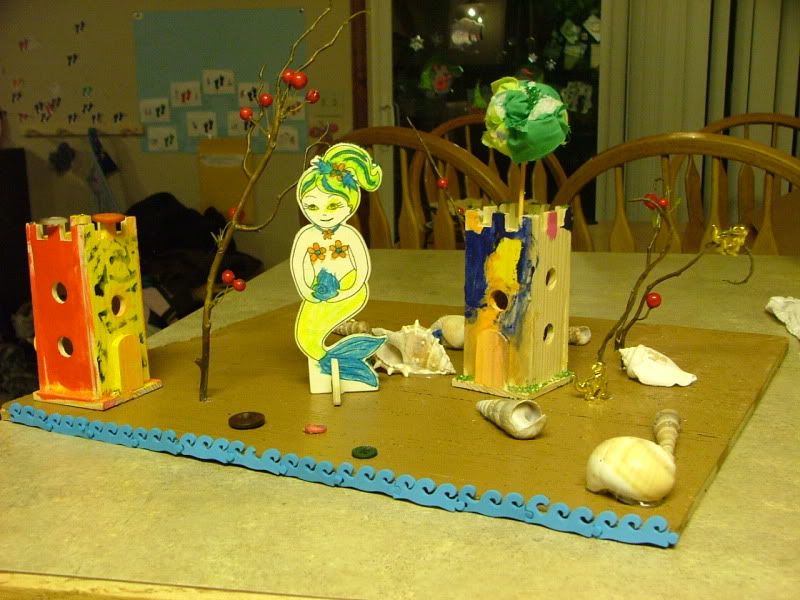 Folks, it was a masterpiece. That was a $3 investment ($1 for each of the castles that she assembled and painted, and $1 for the mermaid that she painted) and lots of creativity as she circled my craft room countless times looking for more ideas. It includes a board from our outside stash that had to be sanded and painted - which she happily did by herself, shells, glitter, a styrofoam ball with fabric 'patchworked' into it with the edge of a spoon, foam waves, a foam treasure chest, mouse and dinosaur buttons (with an elaborate story about underwater dinosaurs), pieces of fake flower stems that are seaweed... It's a regular underwater playground for that lucky mermaid and Ains has loved it.
Best of all, Hannah got to feel the joy of spending a lot of time and effort making something that was thoroughly enjoyed by the one she made it for.
Back to Christmas morning. This was the least blurry shot I got before they ran downstairs, youngest first.
They were thrilled with the dollhouse and spent varied amounts of time at it. Hannah was approximately 15 seconds before she looked over and saw Rosetta - ROSETTA!!! - peeking out of her stocking. Farewell, dollhouse.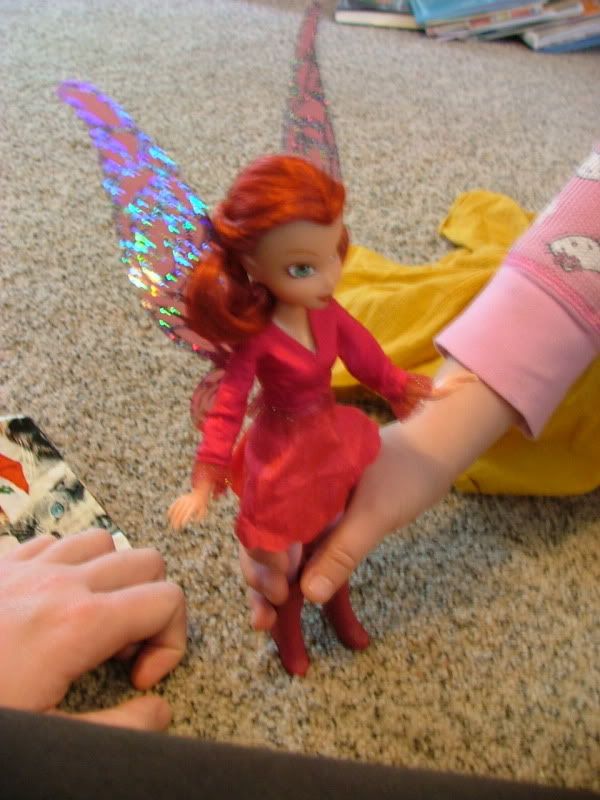 Ains, however had to be dragged away from the dollhouse to empty her stocking.
Stocking stuffers are some of the most fun presents to find since they are so tailored to each person. Among Hannah's treasures were a magic trick, a science experiment, and a fan (she's been wanting a fan for weeks). Ains' most desired item was a box of 'fancy' earrings, the first earrings she's been able to wear apart from the ones she got when her ears were pierced. She was *so* excited, ooh'd and aah'd, put them in, admired them, took them out, put them in the box, handed them to Hannah and said "You can have dese. I no want holes in mine ears no more." I couldn't have been more shocked. Gray got wooden cars and noise makers. Oh, the big noise maker was a hit.
When Ains felt she'd done her duty by her stocking, she went back to the dollhouse and has rarely left it since.
*Mother sighs blissfully*
Gray's favorite present was this Spiderman 4-wheeler from his dad. Awesome.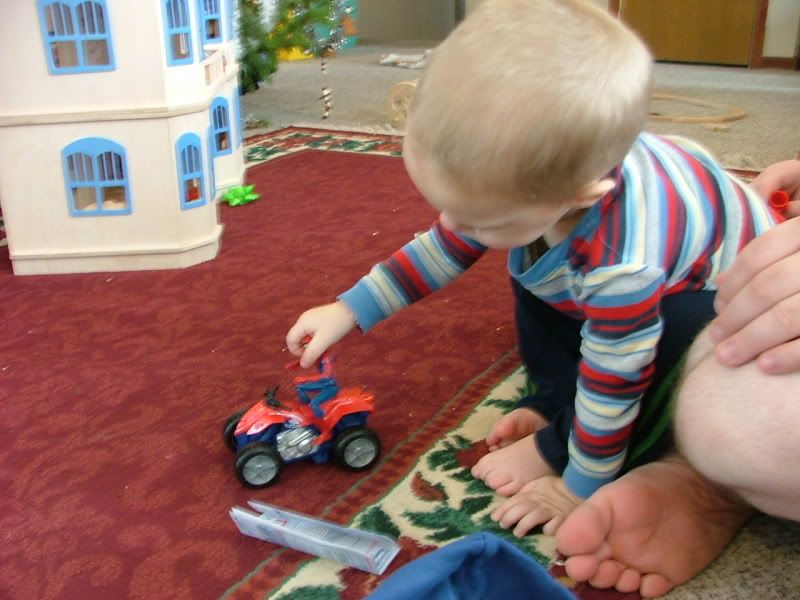 My present for both girls was a little tin tea set that they'll be able to be a bit more careless with (as is not possible with the tea set patched together from thrift stores).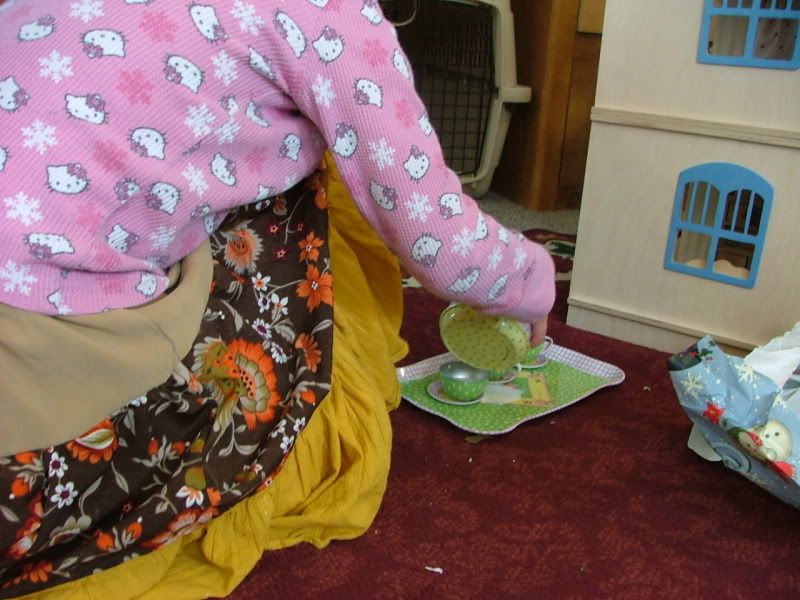 It was a quiet hit, not a lot of excitement, but steady play. The cups are the perfect size for Gray. It cracks me up how proper he is when he holds the cup. Matt says I should teach him stick his pinkie out.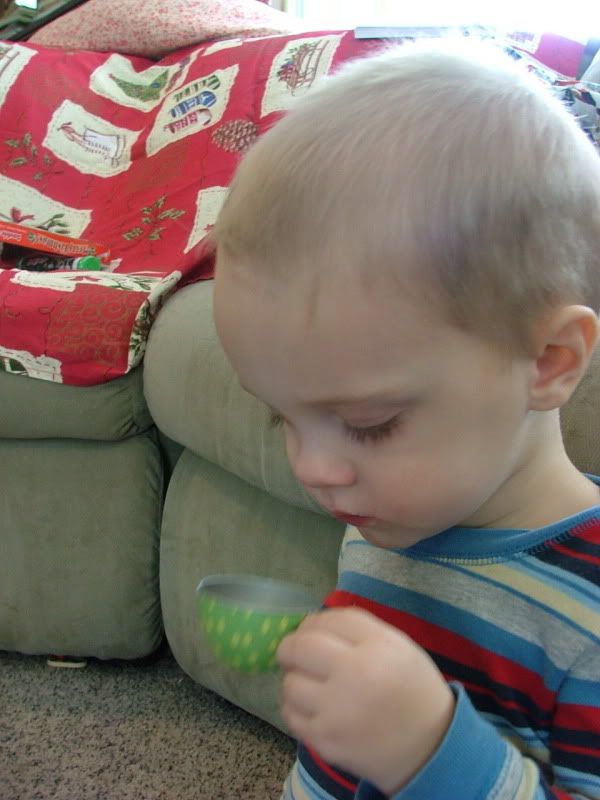 The afternoon was spent discovering and rediscovering all that we got. This was a gamble -
Mystery Garden
. I'm always looking for good games. Some are instant hits, some are instant duds. This one is so much fun - even Ains can play (in her 3-year-old way). If you're looking for an educational game, this would qualify. There's a board with a picture of a garden on it that includes dozens of little details. There are dozens of little tiles with one detail (a unicorn, a hedgehog, a beehive, etc) on each. You draw a tile and everyone else tries to guess what it is by asking yes/no questions.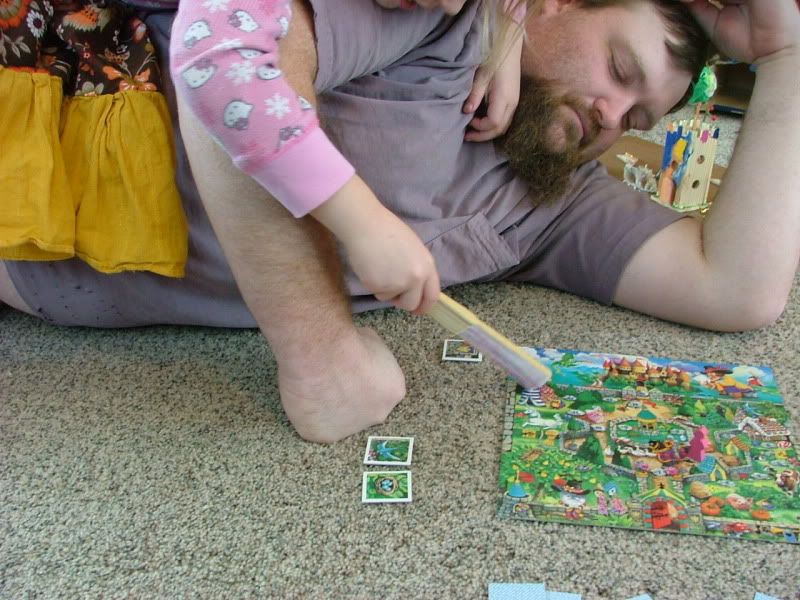 Ains worked with her 'sticker storybook'.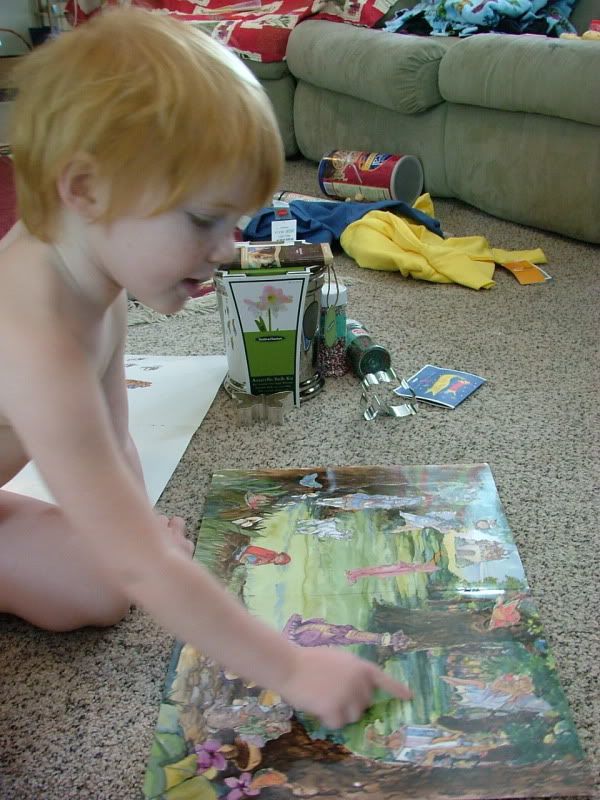 And the train track got moved downstairs where it became a 'viewing train around a dinosaur zoo'.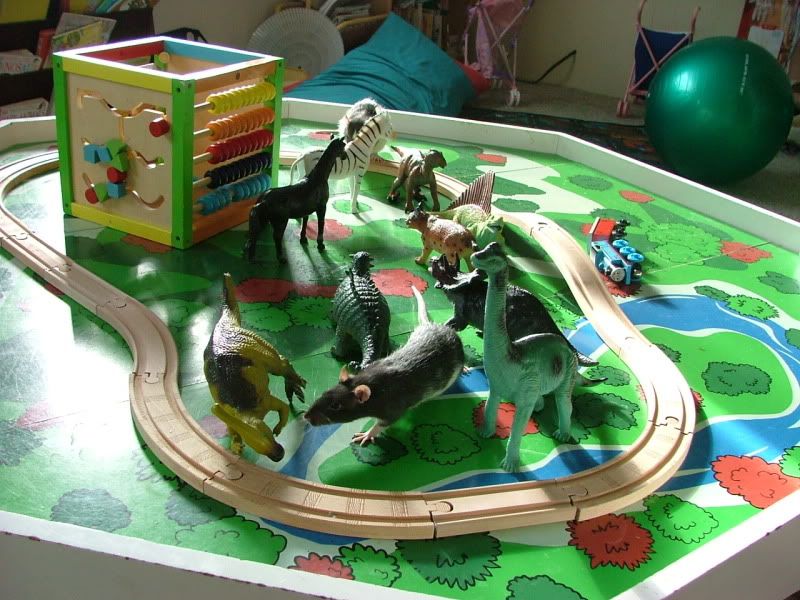 Sorry it's up so late!