A few months ago, I mentioned the three-tiered skirt that I made for my daughter for her birthday and was asked by several people for a tutorial. Due to illness, I haven't gotten around to it until now.
This is an easy, fast skirt to make. It can easily be tweaked, even by a beginning seamstress to have a greater or fewer number of tiers, different sizes (making matching skirts for dolls is *so* easy and will get you in good with your kids), and this patterns is not picky about what texture and style of fabric you use.
I got this pattern from my cousin, written on a refrigerator notepad, it's that easy. Here are the steps:
1. Find the desired length of the skirt. Measure from the waist to either the knees, calf, ankles ... wherever you want the skirt hem to be.
2. Divide the desired length by the number of panels you want and add one inch. For example, if you want three tiers, divide the length by 3 and add 1. This will be the height of each tier.
3. Measure your child's waist. (The skirt in this picture is an above-knee two-tiered skirt.)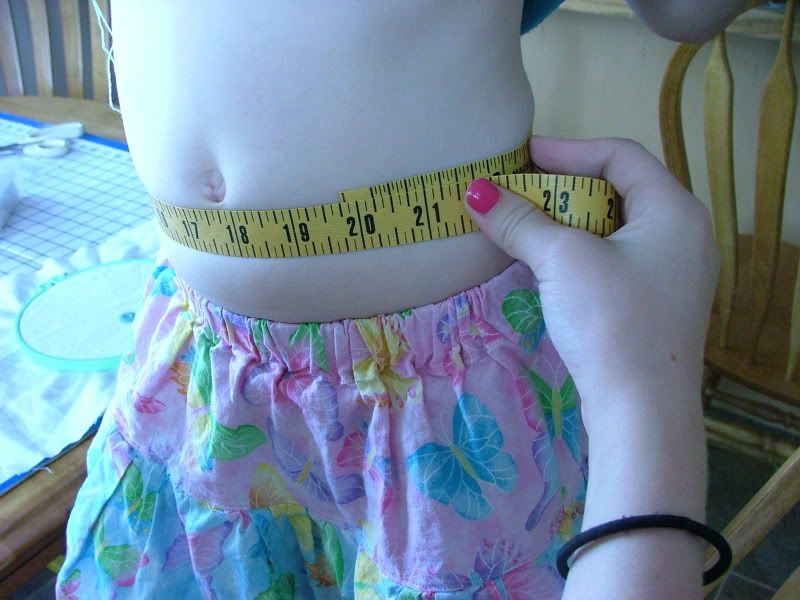 4. The tier lengths should be cut as follows:
1st tier: Waist measurement plus 13 inches.
2nd tier: 1st tier times 2.
3rd tier: 2nd tier times 2.
etc, etc for any additional tiers.
5. Sew together pieces of each tier so that each tier is one long piece. You will now have three pieces of fabric (for a three-tiered skirt).
6. For the first tier, fold down the top 1 1/4 inch and fold that under 1/4 inch and sew. This gives you a 1 inch casing for elastic.
7. For the bottom tier, sew a 1/4 inch double-fold hem.
8. Now it's time to gather. Sew a gathering stitch along the entire top of your second tier. If you haven't sewn a gathering stitch before, it's very easy. Change your stitch length on your machine to the longest available length. Before you start stitching, pull both the lower and upper threads out about four or five inches - you will need these for gathering. Sew 1/4 inch from the edge of your fabric. When you get to the end, pull the threads out at least four to five inches again before you cut them.
When I make these skirts, there are several places in each tier where I've sewn the fabric together to get the desired length. For ease of gathering, I stop sewing right before the seam, pull the thread long, cut, pull the threads on the machine long and start over right after the seam (as in the picture below). This makes it so that I don't have to gather over the seam. Maybe not professional, but much easier.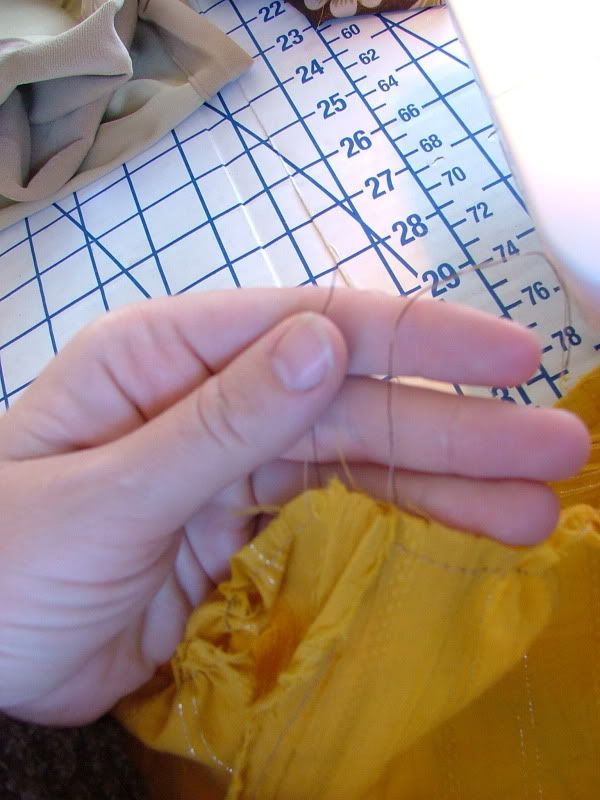 9. Sew gathering stitch on remaining lower tiers.
10. Gather up gathering stitches on each tier. To do this,
gently
pull one thread while helping the fabric along that thread. It will get quite crowded as in the picture below.
11. Now you're going to match these tiers up. Pin the top of the second tier to the bottom of the first tier, loosening your gather as needed to make the two lengths match up and taking care to keep the gathers even. You will need a lot of pins along this edge to keep the gathers where you want them. You can see in the picture below how much you'll loosen the gather to make the two tier lengths match.
12. Sew a 1/2 inch seam, being careful to keep your gathering seam on the inside. Because my girls wear their skirts all of the time and play hard in them, I sew another seam 1/8 - 1/4 of an inch inside this seam. But that's just me.
13. Repeat steps 11 and 12 for all of your tiers.
Your skirt should now look like this: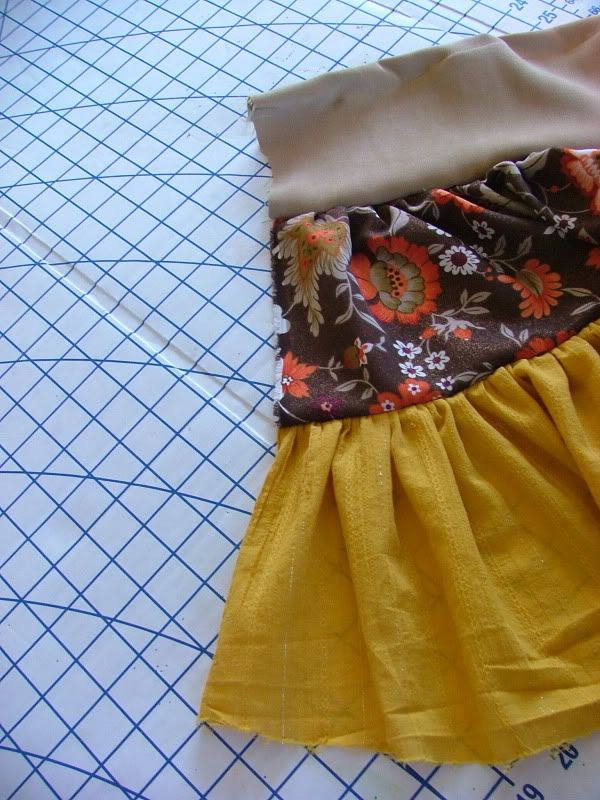 (For those of you with eagle eyes, yeah, the hem on this one isn't done yet - this skirt is for Hannah and I always hem last on her skirts since she changes her mind frequently about the desired length.)
14. Cut a length of 1 inch wide elastic (non-roll is best) the length of the child's waist plus one inch. (20 inch waist would make a 21 inch long piece of elastic) Thread this elastic through the elastic casing on the top tier, securing it at each end.
15. Pin the long edges of your skirt together, from the top to the hem. Sew a 1/2 inch seam all the way down, stitching several times over the elastic waist to secure it.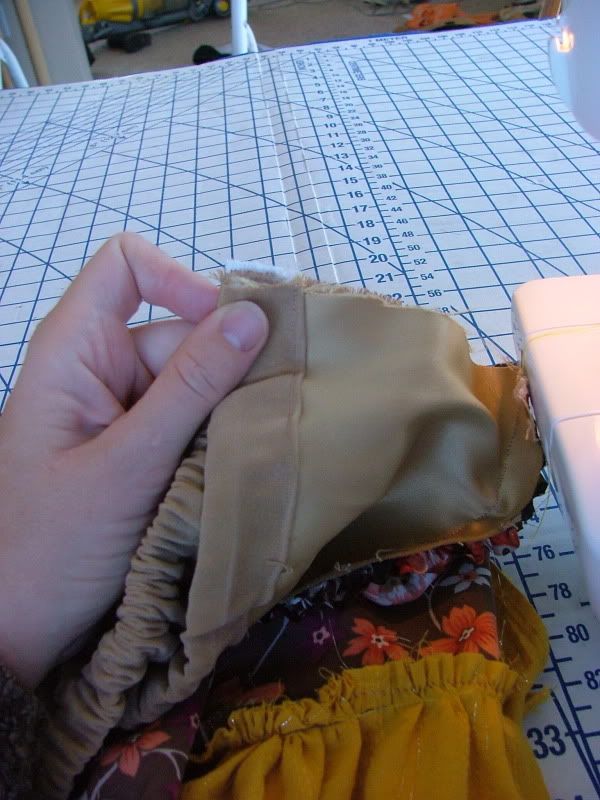 Now your skirt's done! I go a step further and iron the side hem open. Not necessary, but nice.
Here are a few other tiered skirts -
My cousin's daughter designed and made this one while she was with us.
Ainsley's birthday skirt with matching doll skirt.
Hannah in a skirt that was a gift from a cousin. It's a good skirt to wear over pants when she's playing outside. Just try to separate my girls from their skirts.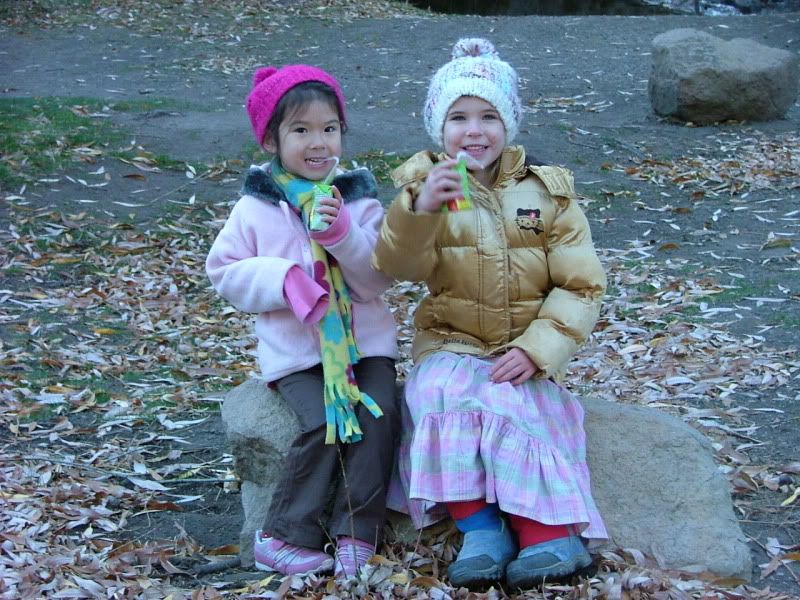 So there you have it! I hope it was a clear tutorial. Have fun! Let me know if you make any skirts - I'd love to see pictures!