After the aquarium we headed over to
Cobble Beach
to see if the tidepools there were as amazing as we'd heard. They weren't. They weren't even there. Stupid online guides that don't know what they're talking about. We decided to walk around anyway. It was cold, but not rainy, and the kids wanted to explore. With dreams of finding shells and starfish among the rocks, we set off.
And we did find some cool stuff. Pretty driftwood.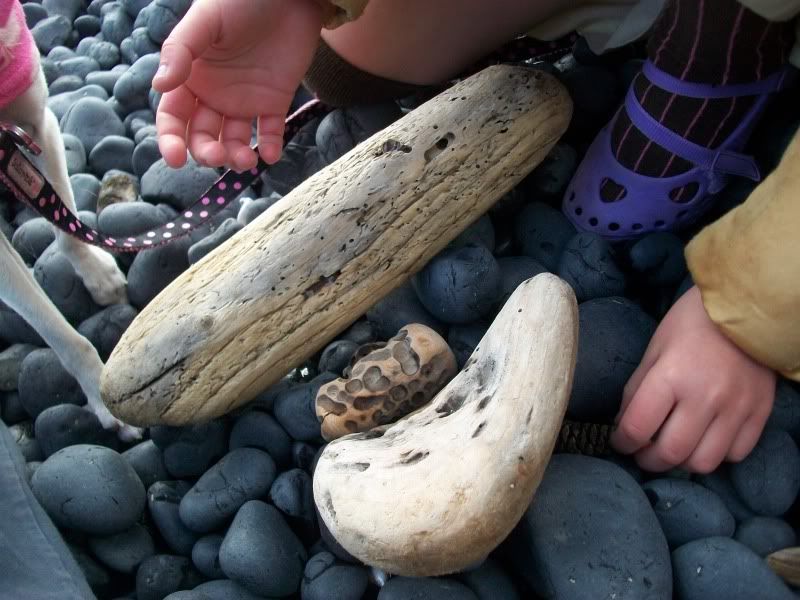 Sponges (right?) and shells.
Piles of sea plants.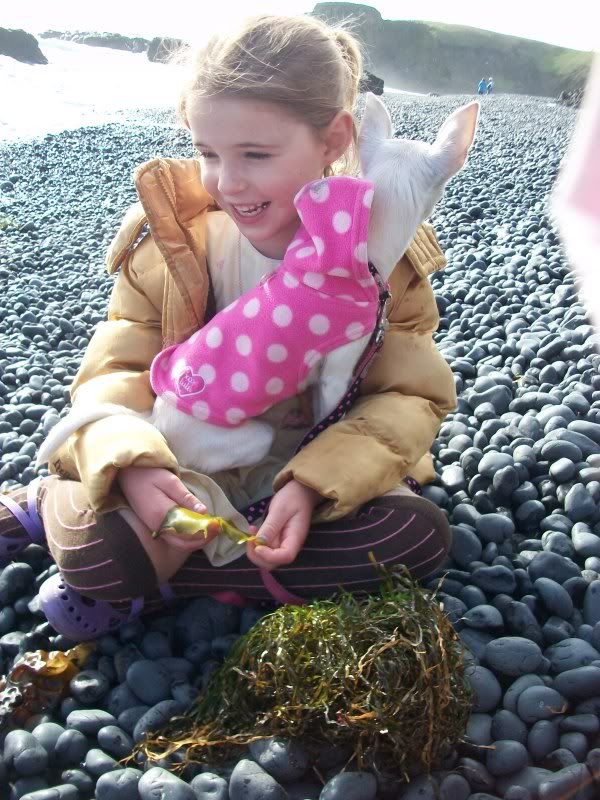 All admired and then left on the beach when we left per the posted rules of the beach, but not without some sadness.
Cobble Beach is named for all the cobble stones that make up the beach.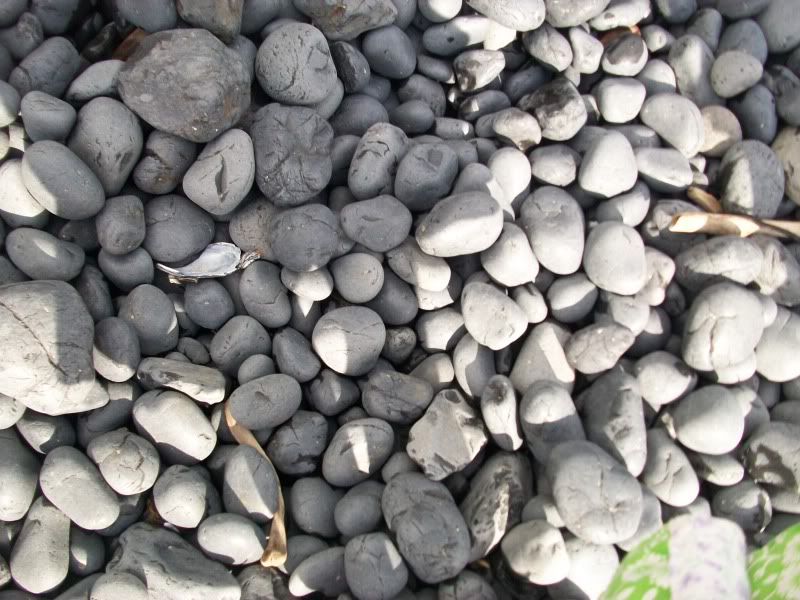 (picture by Ainsley)
The stones are amazingly smooth with no sharp edges on any that I saw - or sat on. They were, in fact, surprisingly comfortable to sit on. So I sat down and watched the waves coming in and trying to hear the sound of water running back down off of the cobble stones as the waves went back out.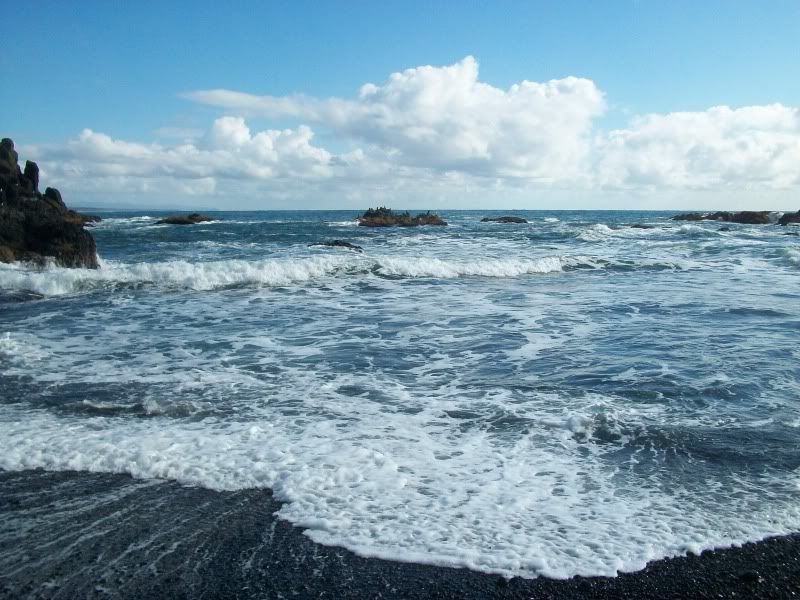 It was the most relaxing thing I've ever heard. I even recorded a little bit of it. Silly, but I'm glad I did.
While I sat there, just staring at the ocean, the kids played on the beach.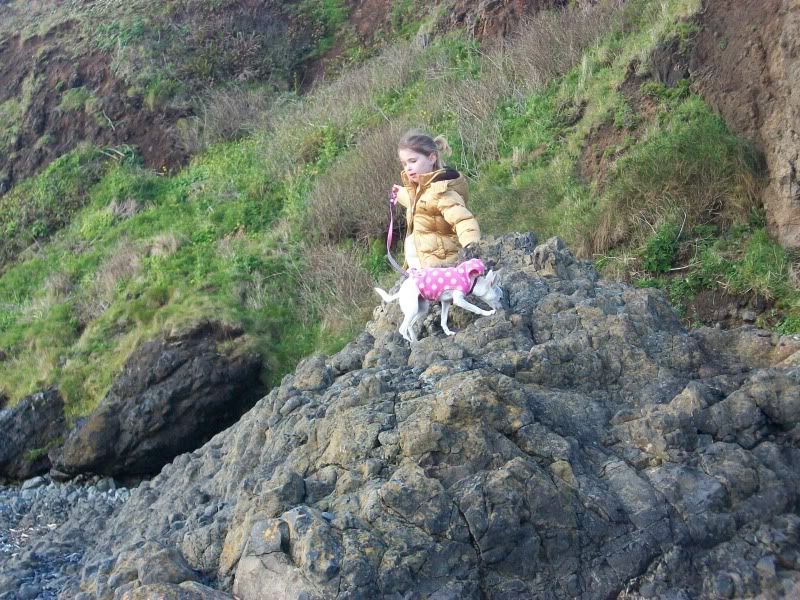 It's a testament to the calming power of this beach that at different times, I caught all three kids sitting and relaxing on their own before getting back up to play again.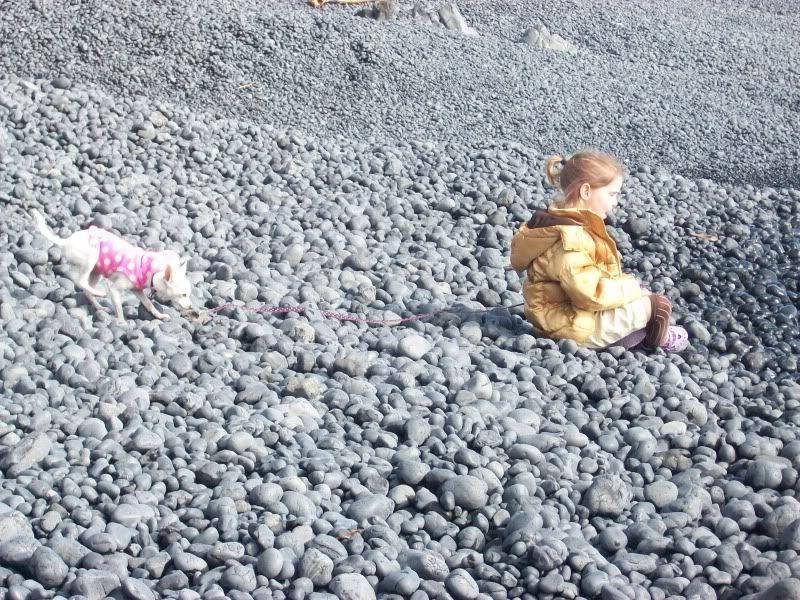 Even the dog relaxed when Hannah came over to sit by me.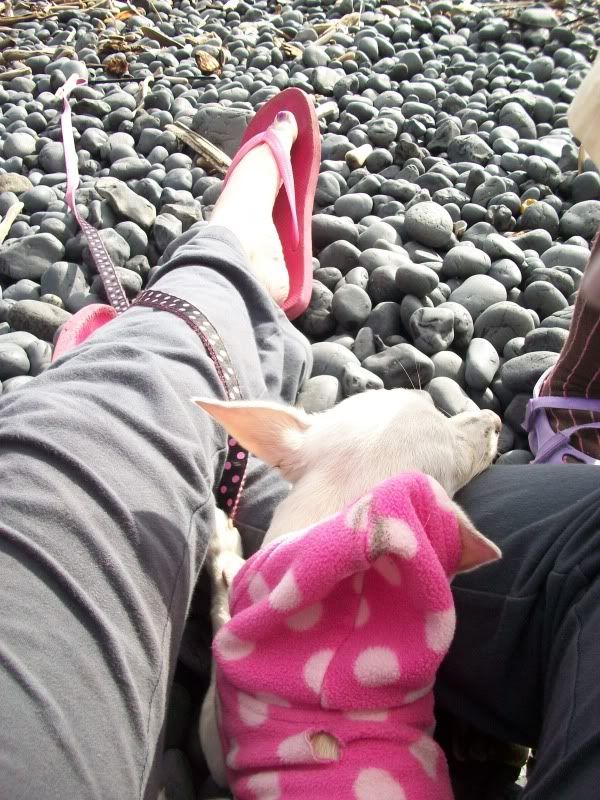 As soon as Hannah left, so did she.
Ainsley took the camera to get 'very important pictures' and snapped this picture of Matt and me.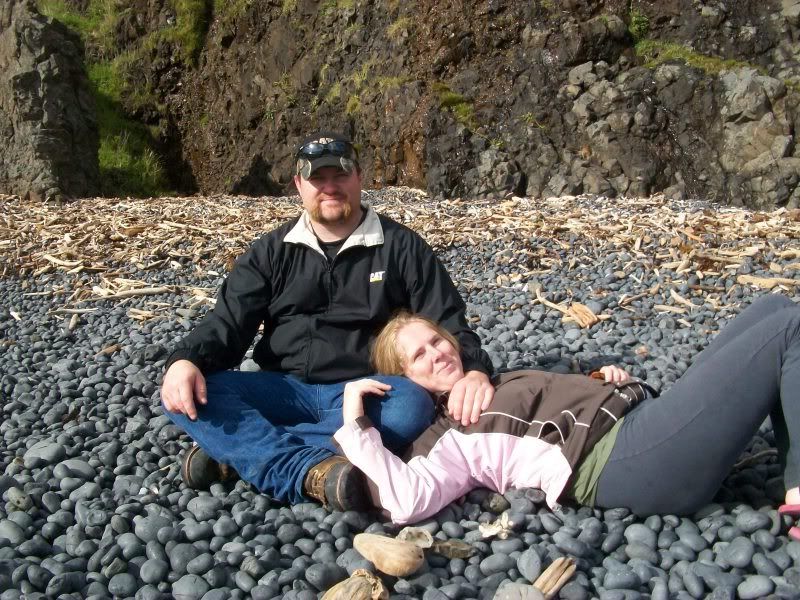 Hannah asked me to come 'chase the surf' with her, so we did.
Then, while Gray and I searched for more pretty driftwood and Hannah looked for sea urchins, Ains and Matt challenged the waves.
We had seals watching us the entire time that we were on the beach. There was a mother and calf pair that sometimes rested on rocks about fifty feet out and sometimes slid into the water to play. There were at least three that stayed in the water and popped their heads up every so often to look at us before the waves crashed over their heads and they disappeared. We decided to leave the beach to them and headed back to the truck.
The lighthouse in the background is
Yaquina Head Lighthouse
.
Can you see the seals watching us leave? I can't and I know right where they are - I think. There were two there when I took this picture.
After the beach, we headed into town to have my second seafood dinner. I love seafood. Ever since Ireland I've loved it. But we don't get a lot of fresh seafood in Idaho and my husband wont' eat any seafood that's not as fresh as it comes. In Newport, at the restaurants along the Bayfront, the fish can't come any fresher and he'd promised me two seafood dinners on this trip.
Our first one, the night before, was at
Mo's
- don't follow that link unless you want to start jamming to their theme song. Simple, tasty seafood at a good price. Matt wanted to go back there the next night. It might have been because, as a huge Simpson's fan, he liked the fact that it was called
'Mo's'
- that link's safe to follow, sound-wise.
Our second meal was at
Local Ocean
, a place recommended by one of the volunteers at the aquarium. Both restaurants got their seafood as fresh as possible. It was walked off of the boats and into their kitchen. (So it was fresh enough for even Matt.) Local Ocean is also a seafood store. Their case was full of different varieties of seafood, all listing what they were and - get this - which boat in the harbor they were caught on and how they were harvested.
This was our view as we ate.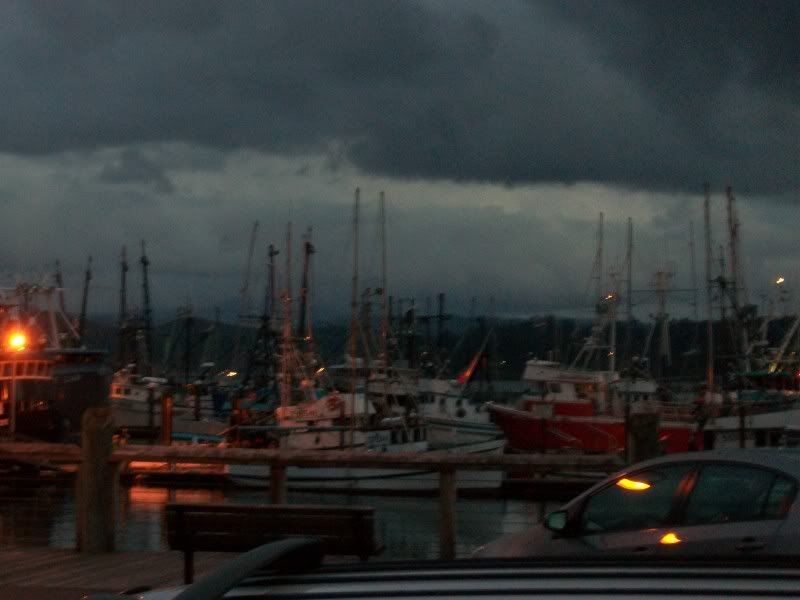 Wait. That was our view when we looked out of the window as we ate.
This
was our view as we ate.
Oh, it was good. Matt got bacon wrapped halibut. Talk about the best of both worlds.
Then we went back to the yurt and fell asleep to the sound of heavy rain on the roof, and I was glad not to be in a tent. We planned on visiting a tidepool and lighthouse the next day and I was hoping it would clear off enough for us to do that since we were heading away from Newport the next day.