Our third day started with us stopping at Danni's house again to pick up Hannah's Nettie doll that had been left there accidentally. Props to Danni for noticing it and letting us know before we drove past her house again.
We drove from Portland to Newport that day with a stop in Tillamook at the cheese factory.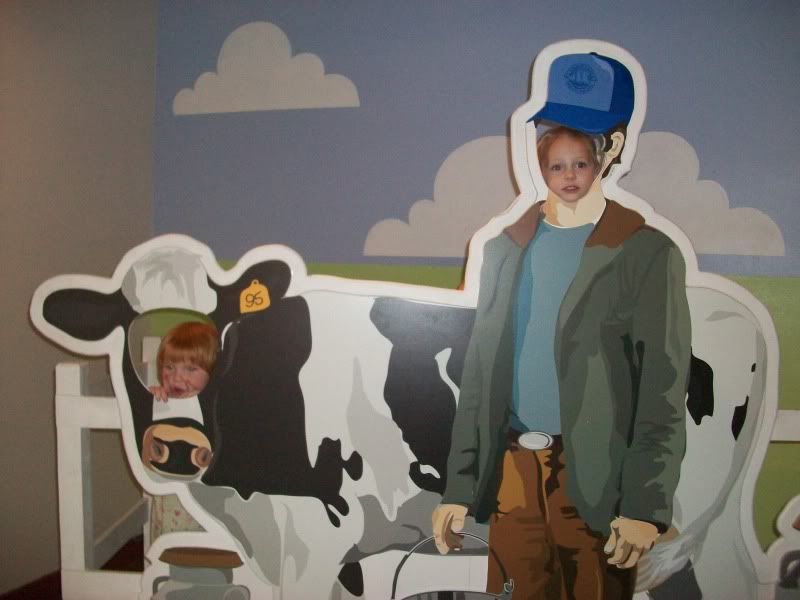 It didn't need to take us an entire day to get from Portland to the coast, but Matt has a very relaxed vacation philosophy. When I was a kid, my dad would throw all ten of us kids in the van with all of our camping equipment and drive us on a three-week vacation all of the way from Oklahoma to Montana with stops along the way at National Parks, family visits, and reunions. I remember looking at the calendar for the trips and being in awe of the military precision he'd planned things with. It was necessary.
But a trip from Idaho to the Oregon coast for a week is so much easier. I planned the first two days carefully, but traffic and weather ended up tweaking those plans a bit. After those days, we had no real plans - Matt wanted to see the docks and boats and I was demanding a real seafood dinner - so we were taking it slow and easy and Matt refused to make solid plans and I was going to have a nervous breakdown.
Then we got to our campground, checked into a yurt, and walked to the beach.
It was cold and windy and the ocean was loud and large and it was beautiful. Hannah touched the ocean for the first time.
And I converted to my husband's vacation philosophy. The next three days were absolutely amazing, filled with "Why don't we..." and "Wouldn't it be fun if we ..." and "Let's drive down there ..." and "I'm going to sit on this beach for the next few hours ..."
The campground we stayed at was suggested to me the day before we left by a lady in the Leonberger rescue group (trying to help me re-home Butterfly). It was a wonderful campground,
Beverly Beach
. It was near the town we were exploring, right next to the beach, and had yurts, which was a nice compromise for my husband, who likes hotels, and me, who likes tents or campers.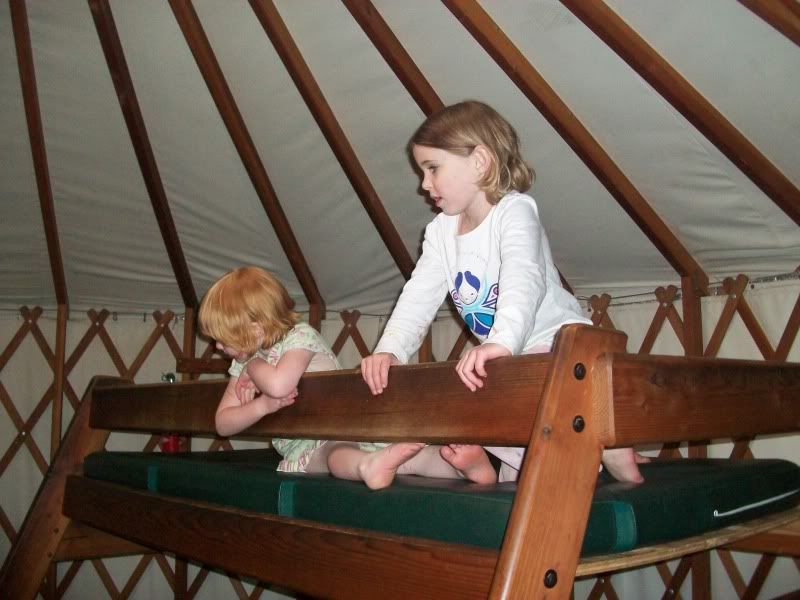 The kids loved it, of course, and it was warm and dry.
We spent the two nights here and if we come back, I want to stay here for a week and spend most of that at Cobble Beach. But Cobble Beach is two posts away.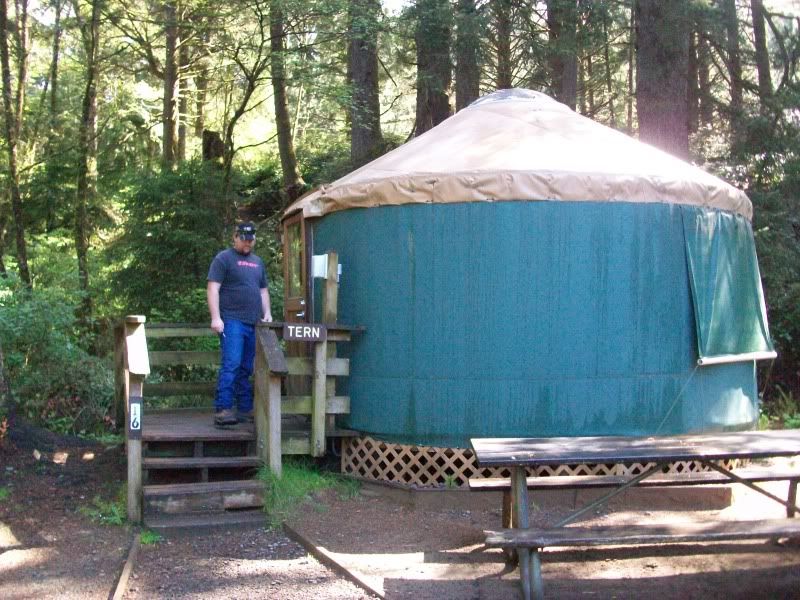 For this night, we were just glad to have a warm place to dry off and showers nearby. We needed to dry off because a sneaker wave got Hannah and me - and Ains a bit, but don't ask her about that or you'll see a still fuming three-year-old - on our beach walk. So Ains got to touch the ocean for the first time too. I think Matt even helped Gray put his hand in, but I was too busy trying to keep Hannah from getting washed away while looking for fossils in the rocks along the water's edge. Dang dinosaur movie.
Fun fact. Little kids *really* want to sleep on the top of a bunk bed. Really, really, REALLY want to. Until everyone's set up and tucked in and they realize that they're not next to Mother. Then Daddy gets to sleep on the top bunk.