Our day in Portland started out with a trip to
OMSI
- the Oregon Museum of Science and Industry. OMSI is an amazing museum built with kids in mind.
We had meant to go to a planetarium show there the night before and then to the museum itself and a dinosaur show the next day, but since we got stuck in traffic the night before, we had to do it all in one day. This ended up being a blessing in disguise since the day we did it all on was $2 admission day with $5 shows. Absolutely amazing. The special pricing hadn't been mentioned on their website, so we just lucked into it. Saved a ton of money.
Most of their exhibits are hands on and quite a few are built strictly for playing. It was obvious that the people who designed them believe that children learn through play.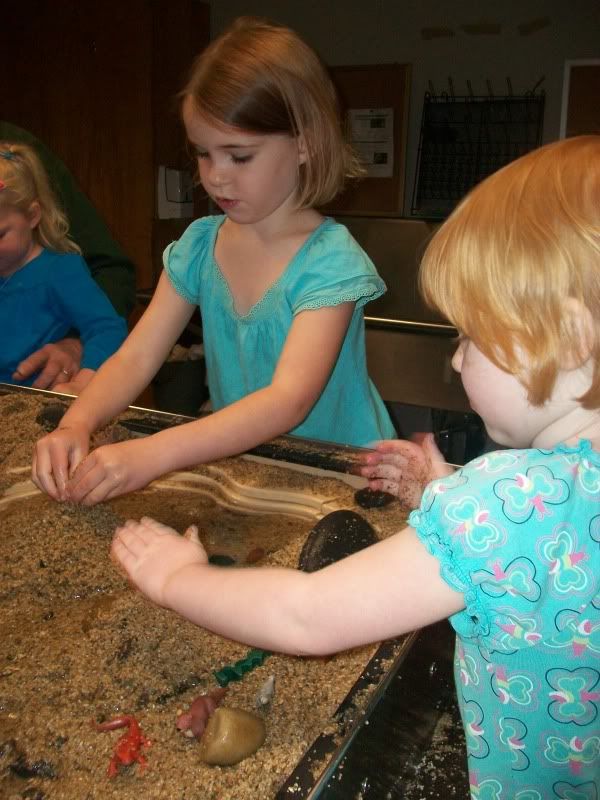 This exhibit was a large sand and water box with houses, bridges, fences, and animals in it. It was designed with water coming out of several 'hills' at one end and working its way down to drain at the other end. There were always about ten kids working in this box at a time, moving all of the things around and rearranging the terrain to let the water flow in different areas.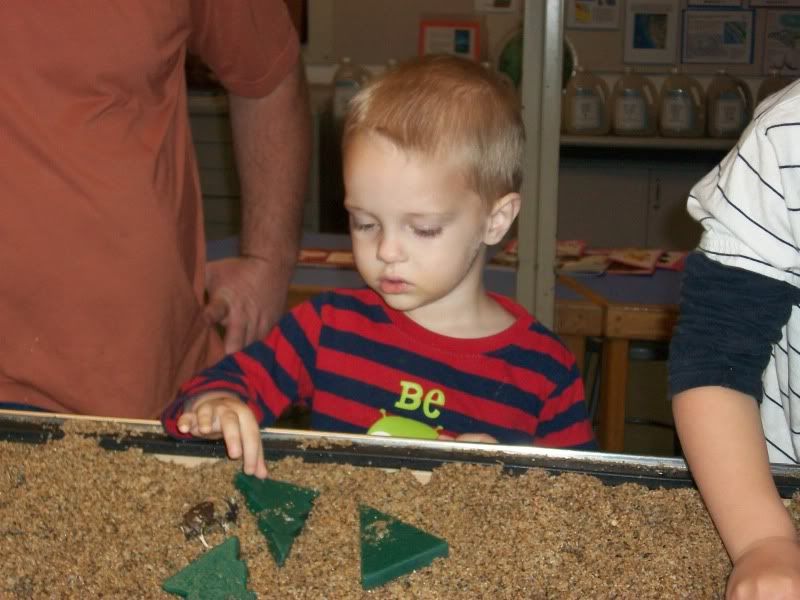 If a kid near you moved their sand, you could find your bridge flooded downstream. If someone left and their sand stayed still, you might end up with a lake. So much fun. For some kids, this was their favorite spot. There was a little girl there when we arrived and she was still there when we came back through after our dinosaur movie.
The day we were there, there were two main exhibits in addition to their normal ones - a paleontologist themed exhibit with a huge tyrannosaurus skeleton (still not sure how we got out of there without getting a picture of that)
and an astronaut themed exhibit that the kids didn't show too much interest in.
In the paleontologist exhibit, you could watch paleontologists at work cleaning real fossils (they were working on a stegosaurus leg while we were there).
There was something for everyone there.
Ainsley's favorite exhibits were spread out throughout one floor of the museum. She gravitated towards any exhibit that had to do with the human body. This real heart had her mesmerized.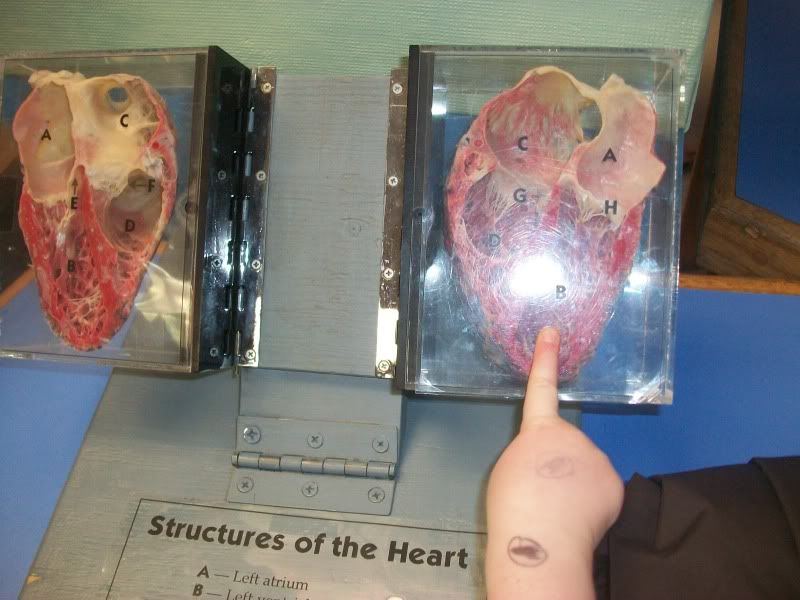 And this puzzle. I want one of these puzzles.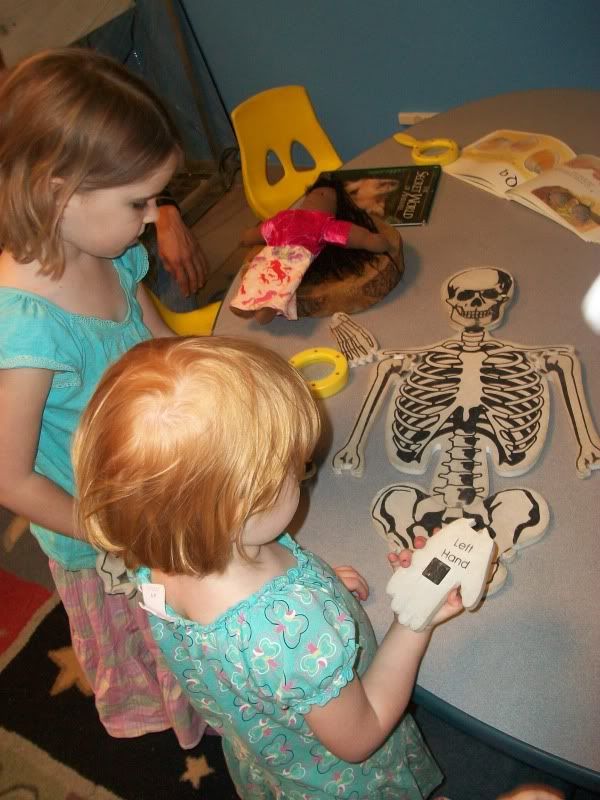 And the 'How babies are born' exhibit.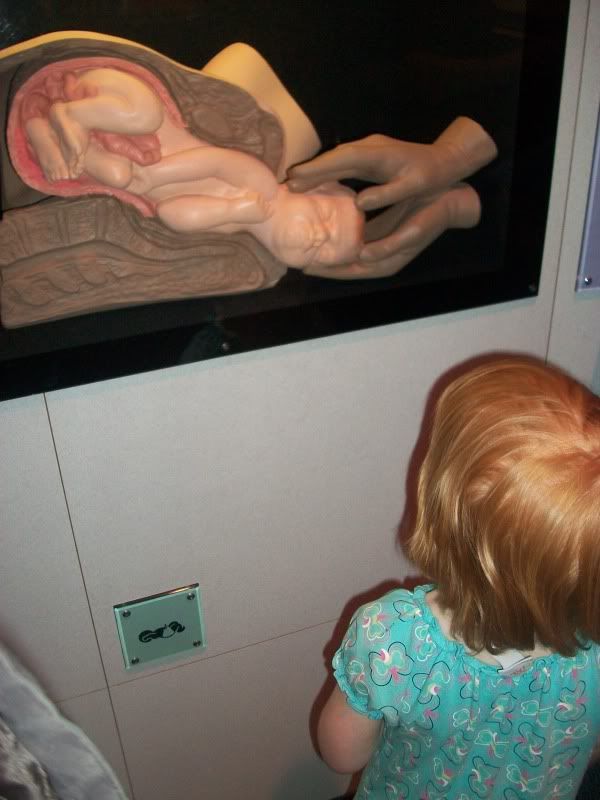 She stood there for over seven minutes and then had to go back through the whole baby exhibit twice more.
Hannah, loved the infrared exhibit.
She was startled that Nettie didn't show up on the screen. Even if she is a doll, she's real, so shouldn't she be on the screen with the rest of the real humans? They had a hand cooling and warming station so that you could see the effects of that on how you appeared on the screen.
Then there was the very powerful and kid-friendly microscope.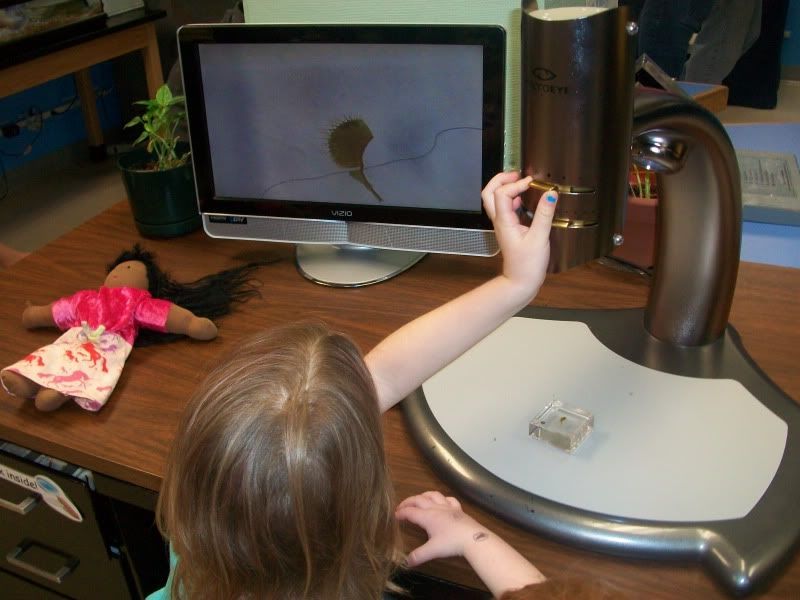 And the animal track matching game.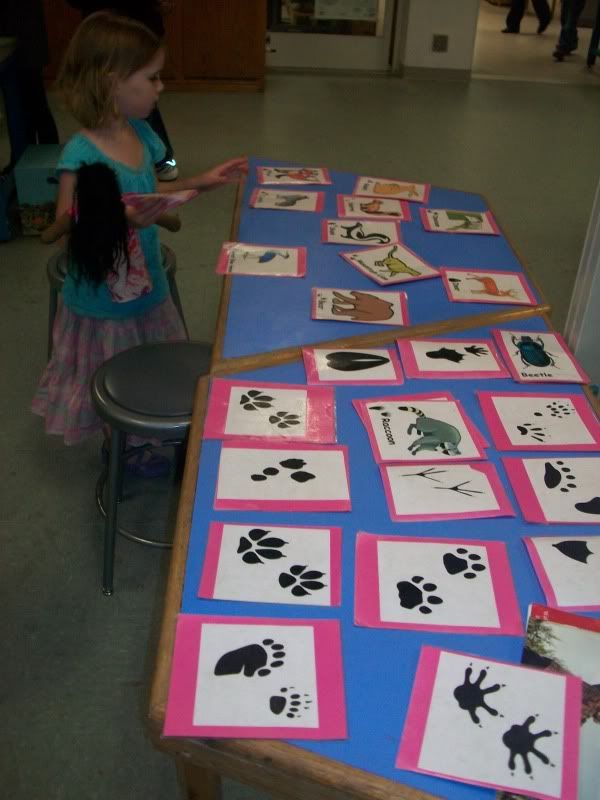 Grayson enjoyed the playgrounds scattered throughout the museum.
The museum had a little kids section that was so well designed. There was a sand play area,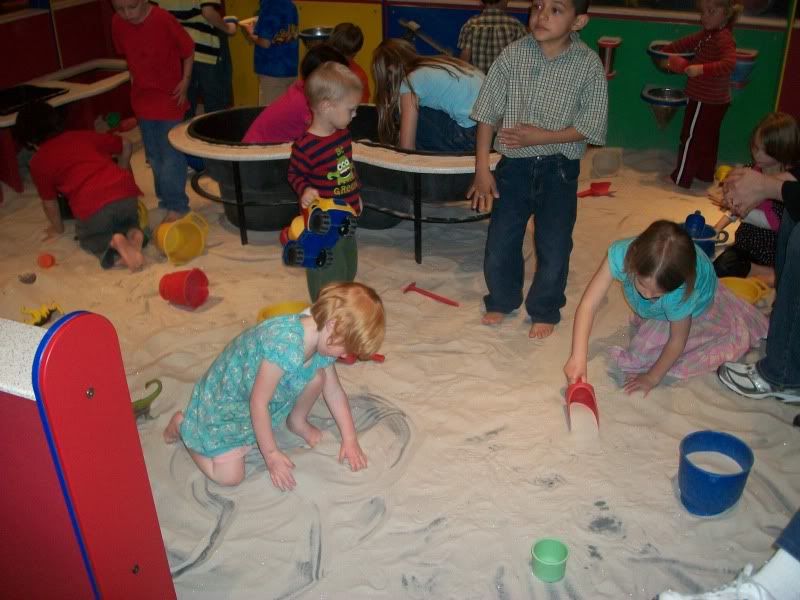 and a water play area. A train track to play with, a building blocks area, an experiment station. A nature play area where the kids could climb into the homes of different animals built to their size and even become a family of chipmunks.
It was the eagle's nest that Flat Kathryn ended up liking the most.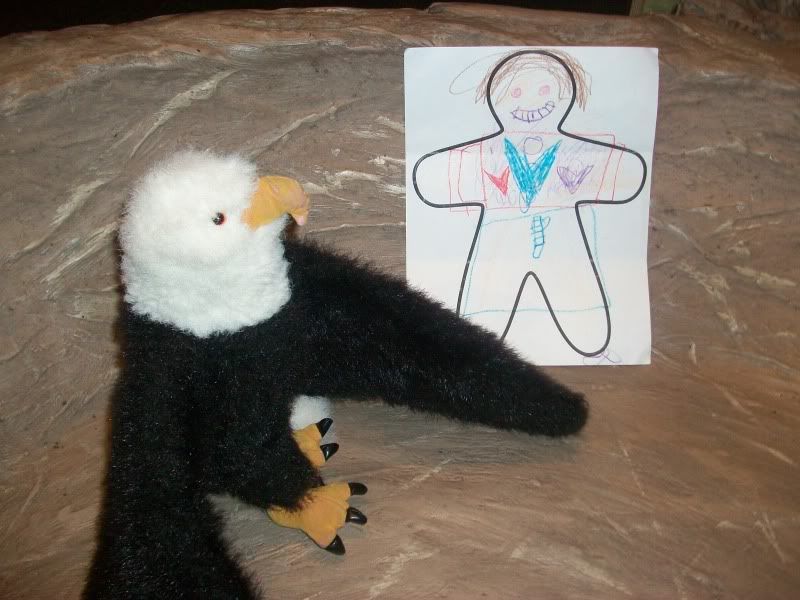 She's so quiet and very easy to please.
The dinosaur show was at the 'OMNIMax theater' in the museum and it was like nothing I've seen before. The seats were nearly vertical and the screen went over the top of your head. As we climbed to our seats, Hannah said "You may need to hold me up, Mother. I've got vertigo."
After the planetarium show, we headed out to visit an online friend, Danni, from
On The Way To Critter Farm
, who lives in the area. We had so much fun with her. (All of the following pictures are from Danni, bless her heart. My camera battery was dead.)
The girls got to meet their first llamas.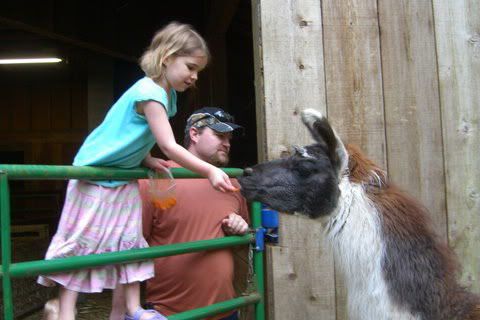 Oh, those were sweet things.
And their first donkeys. Ainsley *loved* the donkeys.
Their favorite animal, though, was the bat in the barn. For ten minutes on the way back to the hotel they were singing their echolocation song. I never thanked you for that, Danni.
Danni has the coolest toys.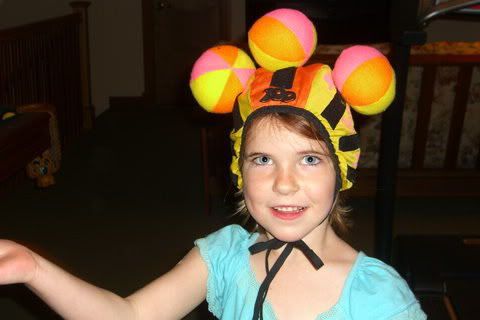 These hats have velcro on them and you throw soft balls at each other's heads. Now Ainsley wants a play veterinarian kit just like the one Danni had.
It was only my second experience meeting someone from 'online' and she couldn't have been sweeter or better with my kids.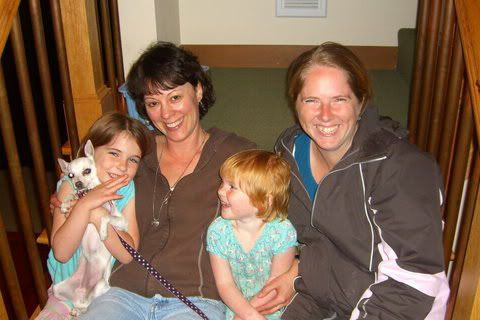 As we were leaving that night, Hannah said "Can she be one of our every day friends, Mother?"
She was that nice.
Everyone but Matt fell asleep on the way home. Thank goodness.