Family vacation time. It's not often with my husband's job that we can all go on a proper vacation as a family. For the next week, we are doing just that, traveling to the west coast of Oregon. Last night we made it as far as Pendleton and were lucky enough to get a hotel with a swimming pool.
We have one of my friend's kids traveling with us -
Flat Kathryn
- and she came to the pool with us. Unfortunately, she forgot her swimsuit, so she had to stay by our towels the whole time.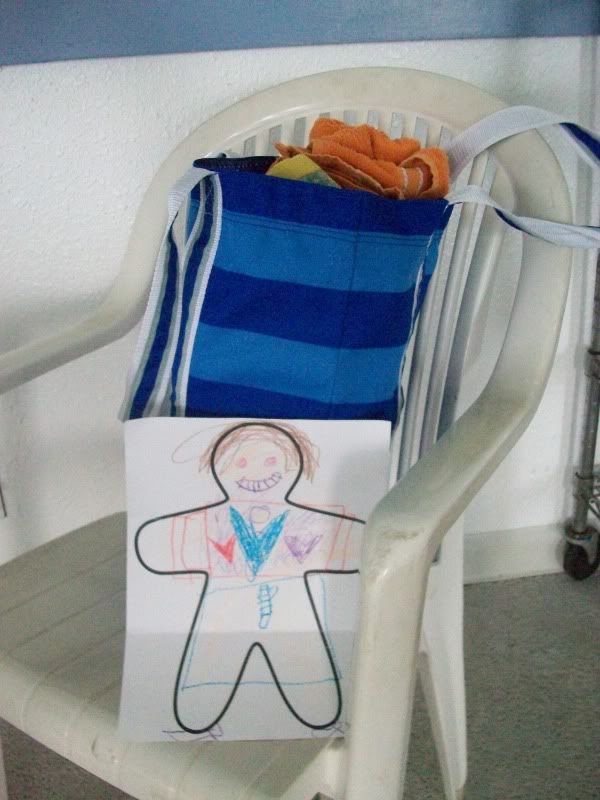 She's a good sport.
This morning we went to the Pendleton Woolen Mills which was very cool. In the store we saw some beautiful blankets. This one was my favorite. The bottom of it is silhouettes of people looking at the stars, the top is constellations. Beautiful. Expensive, but beautiful.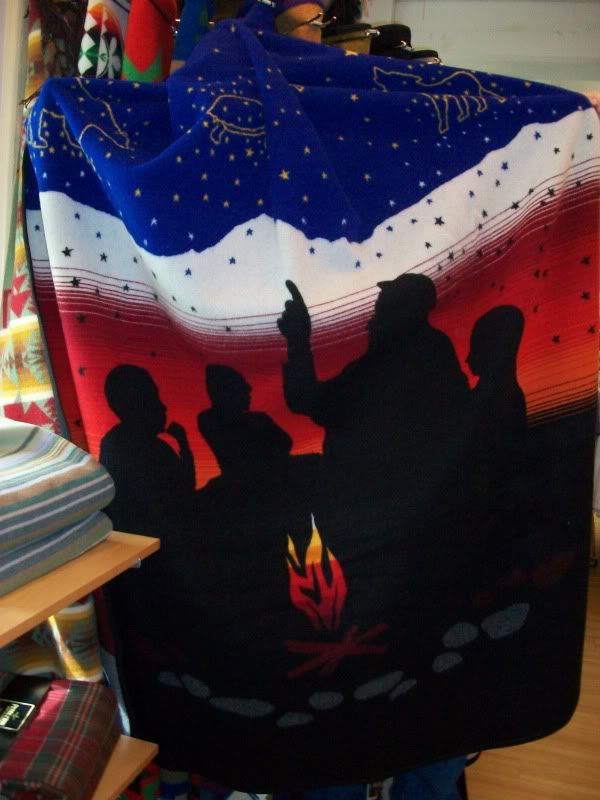 The kids found little stuffed lambs and had the good fortune (or the good sense) to show them to their daddy before me.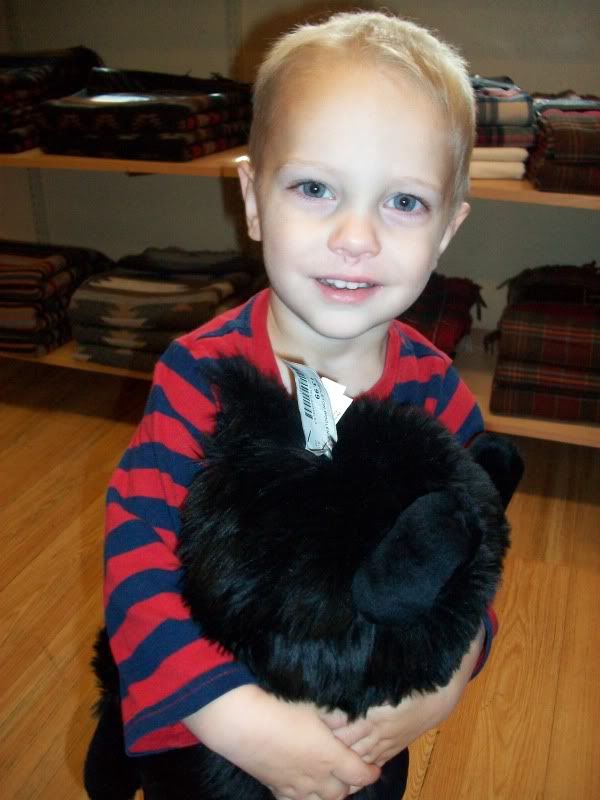 "Baa Baa Black Sheep is telling you to buy this shirt, Mommy."
This very pretty $85 shirt.
A few minutes later, I hear laughing and turn to see some ladies giggling because Ains was dragging this huge sheep by its ear.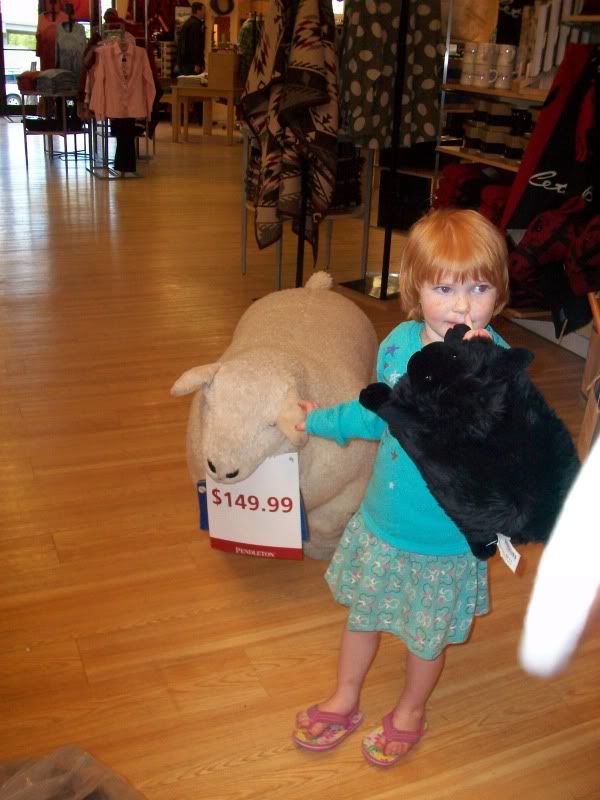 What are you doing with that? "Baa Baa Black Sheep needs a mommy to nurse on. It's a weequiament." It is a requirement, sweetie, but we're not taking that sheep home.
Then we drove farther west to The Dalles area and visited an area with some beautiful waterfalls.
We saw our first moss-covered rocks, which was more exciting than you'd think because a moss-covered rock is the main character in one of
our favorite books
.
And a very exciting thing happened - Grayson finally did his first real sign. Train.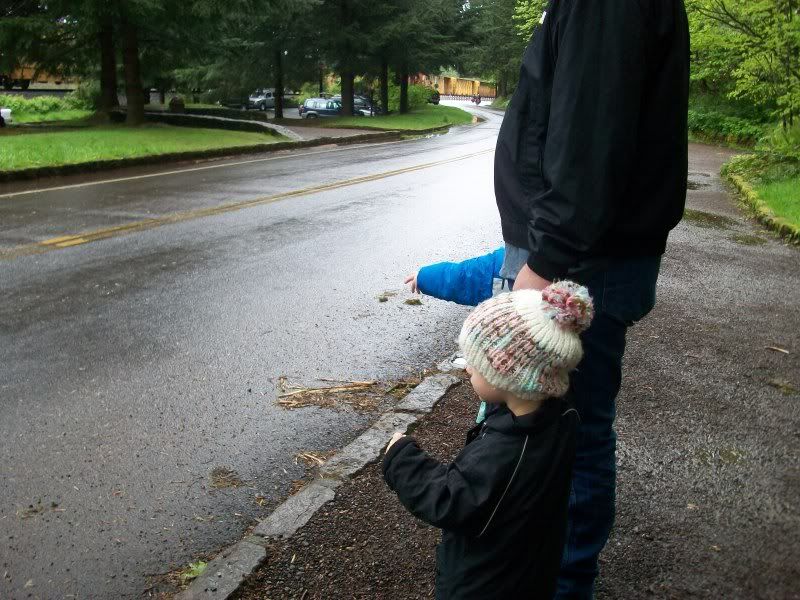 We had to stand there and watch the entire train go by while he signed 'train' the whole time. Very exciting.
At the next falls, Ains found "the stwangest thing in the whole wowld."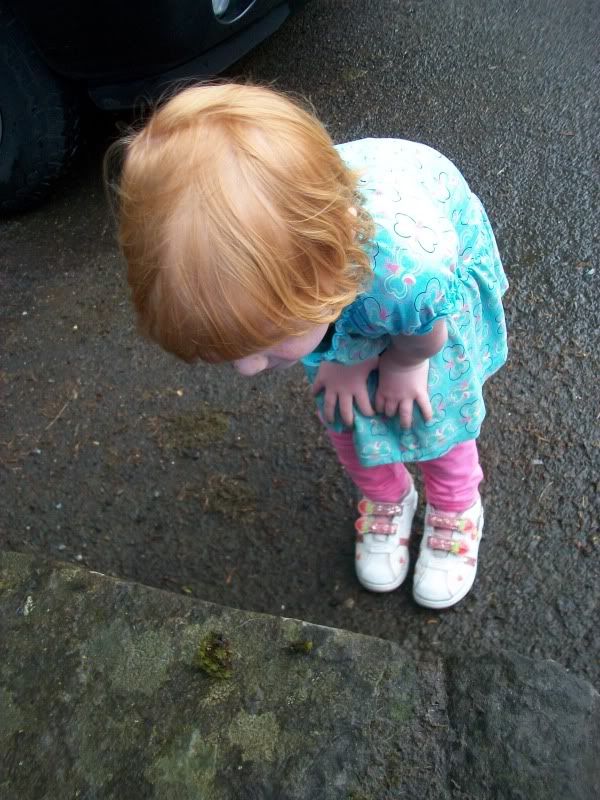 In-between the cracks on the rock wall, behind the moss, were worms. Living in the wall.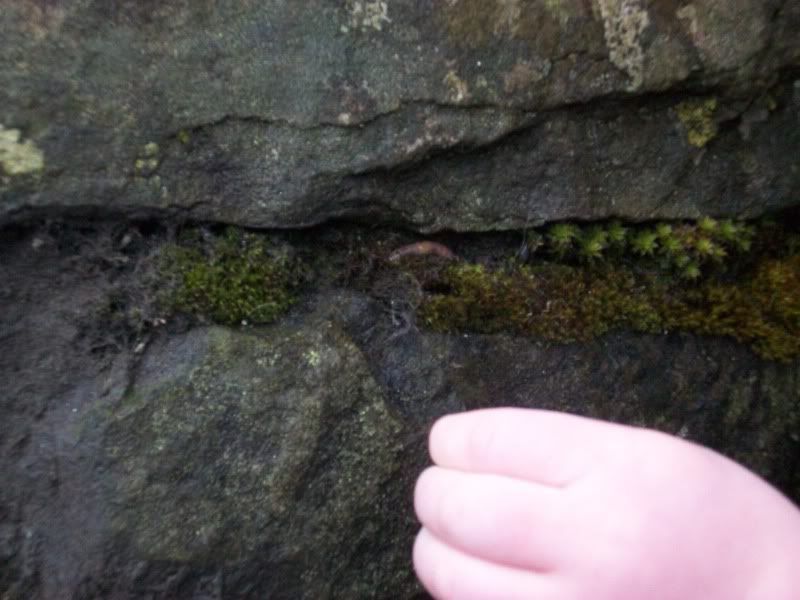 "I can't beweeve they're weal! They're weally weal!"
Multnomah Falls was the last one we stopped at. It's a two-level falls with a bridge going over the bottom one.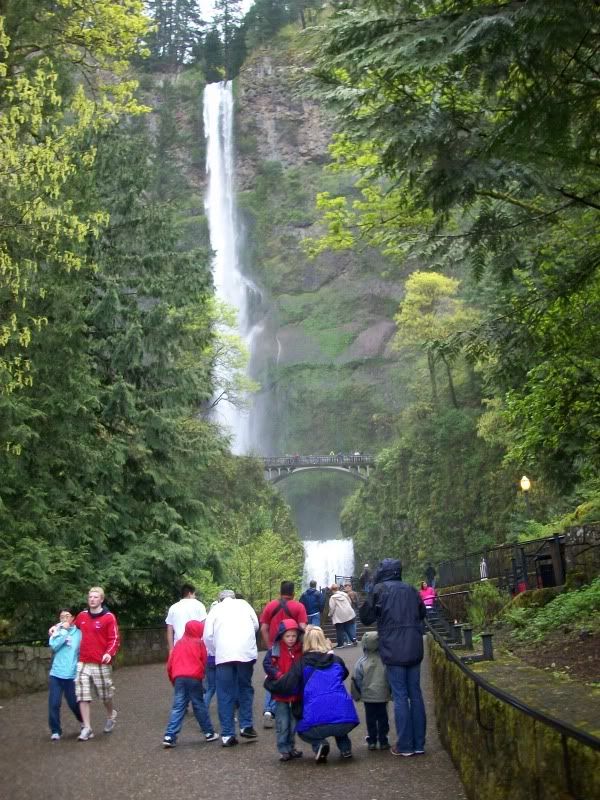 We hiked up to the bridge and looked over.
"Holy crap!" is what that little chihuahua is saying.
Then we went back down and had lunch in the Oregon drizzling rain.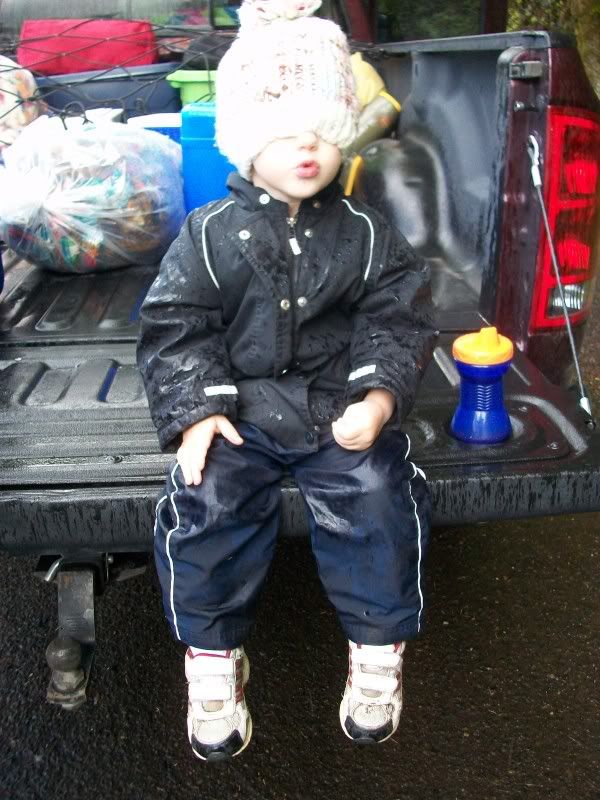 For the record, I didn't do that to him. When I put a stocking hat on his head, that's how he wears it.
Everything grows so much faster out here with this much moisture. At home we're just now getting dandelions. Here they're already one foot tall.
On our way out, Hannah saw a sign that sent her into a high-pitched squeal. "That sign says Ains on it!" So we stopped.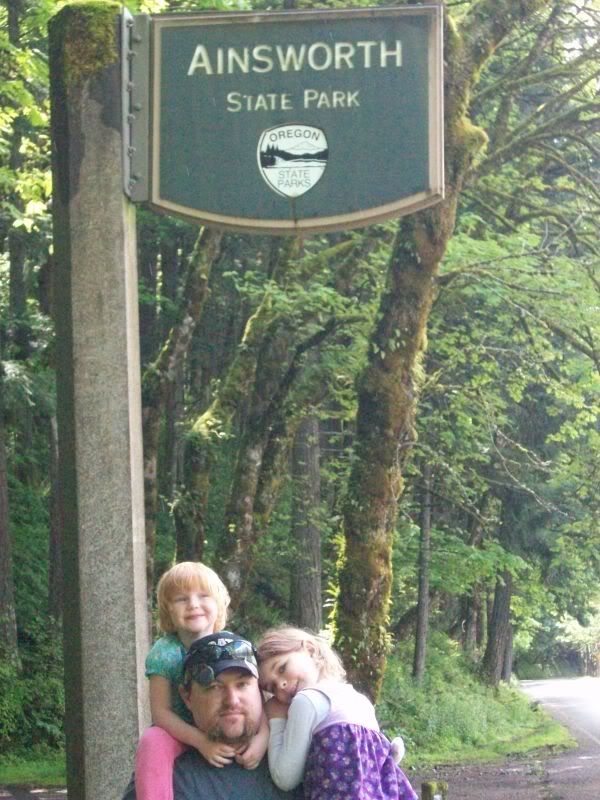 Our next plan was to go to a planetarium show in Portland and we were on schedule to get there an hour early. We never got there because there was an accident fifteen minutes outside of the city that kept us sitting on the interstate for over an hour and a half.
So we'll try to do the planetarium show tomorrow. That left us with a free night in Portland. I wanted to go to a bookstore I heard about in downtown Portland. It's called Powell's and it's the biggest bookstore I've ever been in.
It covers an entire city block and is four stories full of books. When you walk in, this sign, telling you where to go for which type of books, greets you. And they give you a map. And laugh at you for being a country girl who takes a picture of their sign.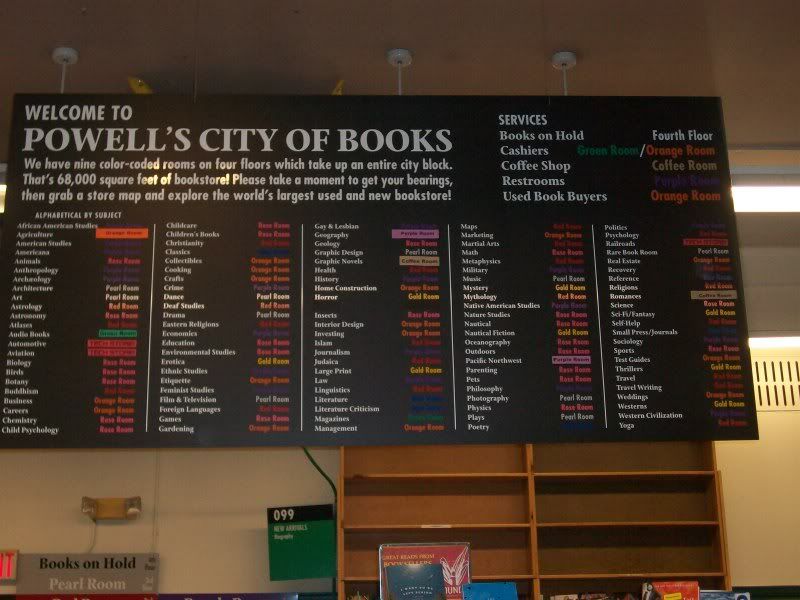 I dropped everyone else off in the kid's section - Matt's a good sport -
and went to explore.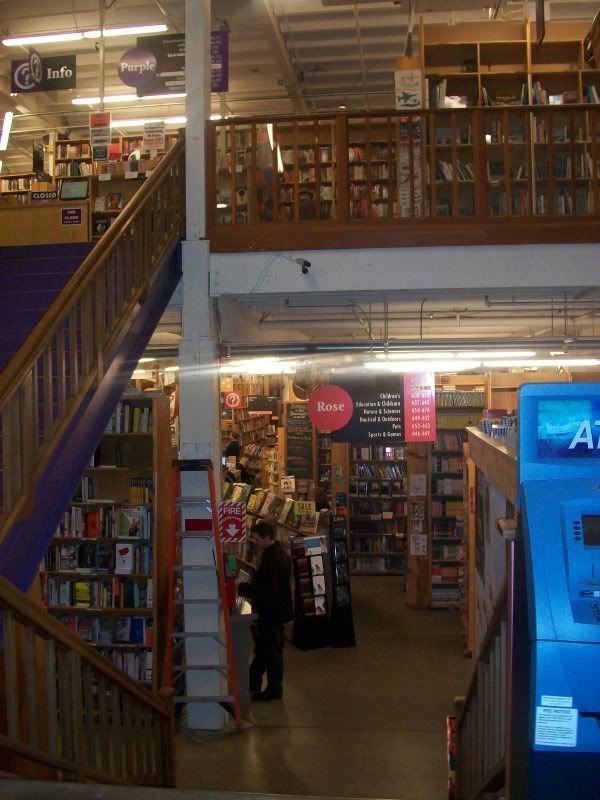 It was overwhelming.
After we each got a book we wanted, we headed back to the hotel.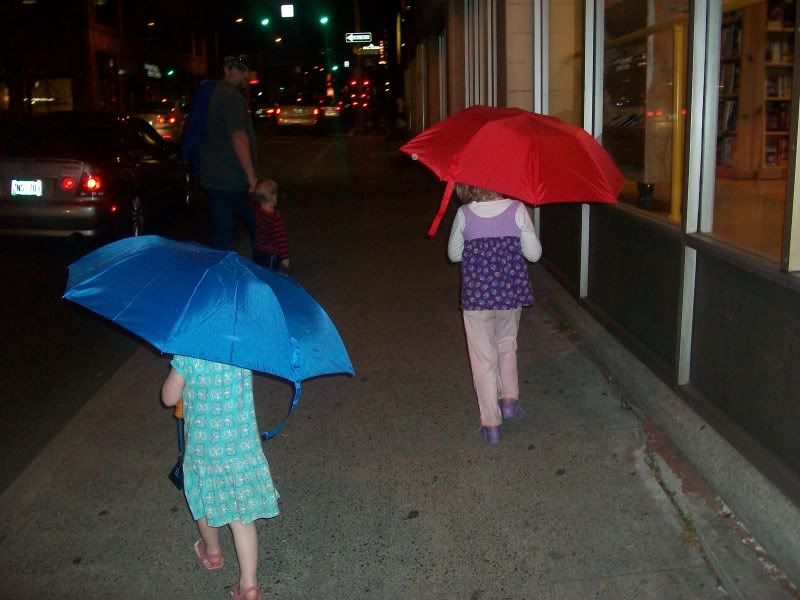 Don't mind them. They think that umbrellas are necessary in Oregon whether it's raining or not. It's a fashion statement.