Halloween is almost as big as Christmas for my dress-up girls. Over the weekend, we went to Halloween parties, out to eat, and then trick-or-treating. Everywhere we went, Hannah was saying "Happy Halloween!" to every one she met and soaking in all of the different costumes.
I didn't make the costumes until the week before Halloween because the suggestions kept changing. They changed after I began the costumes, but they were locked in by then. I put a picture of each of their choices up on my laptop and they would randomly come by, look at them and remind me of little details they didn't want me to miss. Because of the costumes they chose, I got to work with fabric and techniques that I'd never worked with before. Scary and so thrilling when it actually worked!
Hannah chose to go as
Raven
from the Teen Titans - a relatively obscure anime cartoon that the kids love.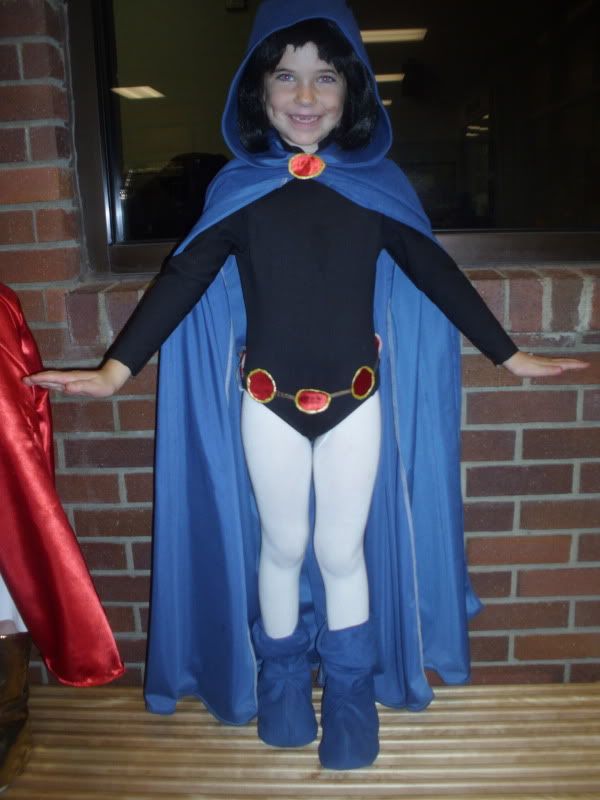 She looked fantastic. Like Ainsley, she was insistent about the details. I didn't get the belt figured out until the morning of the first party. I tried several different ways and finally hit gold with yellow puffy fabric paint on the red fabric circles which Matt then hot glued on a gold ribbon. The only thing we bought with her costume was the tights.
She's lived in her costume since it was finished.
Ainsley chose to go as
She-Ra
. I used
McCalls 5727
for the dress and it included a belt, arm cuffs, and boots. It turned out *so* cute! She was very definite about what the outfit should look like and was sad - though not overly so - when I accidentally made her red boots instead of gold boots. Luckily, her cousin was going as Wonder Woman and needed a pair of red boots. Otherwise, She-Ra would have had red boots.
I hit a wall, though, when it came to She-Ra's crown and the decorations on her dress. I have no experience with applique and it has always intimidated me.
I started with the crown and appliqued the red jewel on it - much easier and cuter than I expected. Then I went through a few 'wing' cutouts trying to get those right - getting them to stay standing up straight ended up needing not just interfacing but a layer of fleece. Sewing the feather lines on the wings ended up being very fun.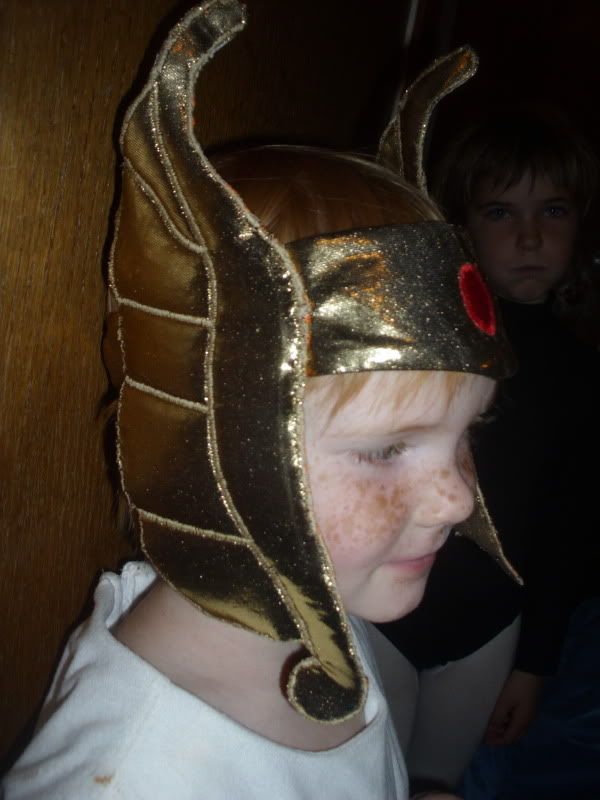 I hand sewed the wings onto the crown.
Then I tackled her dress. That was scary - if I messed that up, I would mess up the dress itself. Two hours before the first party. I ended up hot gluing the pieces where I wanted them and that really helped. I was so excited when it worked!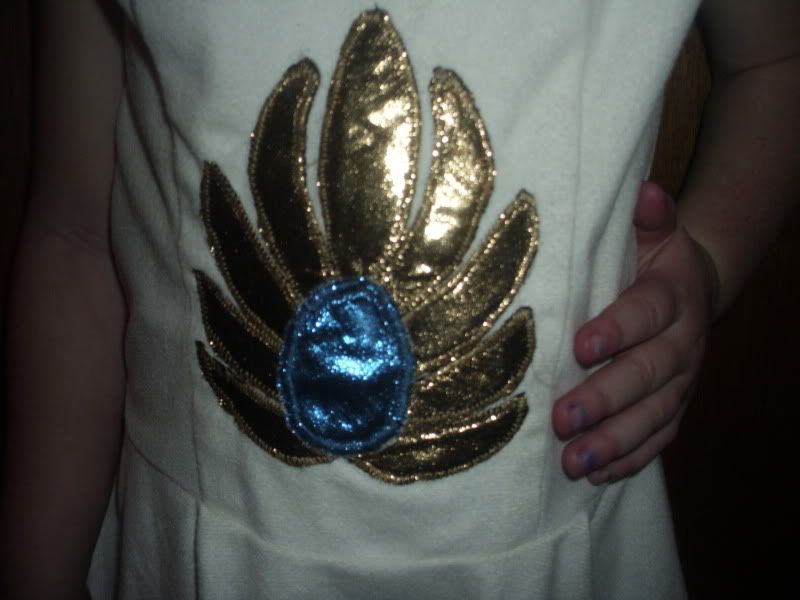 She ended up being *almost* completely satisfied with her costume. She-Ra has bigger nursies and blonde hair. I couldn't get our blond wig detangled in time and I wasn't even going to address the other one.
Gray, unlike his sisters at the same age, really didn't care what he was dressed up as, so we dug a Spiderman outfit out of the dress-up box for him. Two minutes after he was in his outfit he completely forgot he had it on.
We went to a family party at the local college.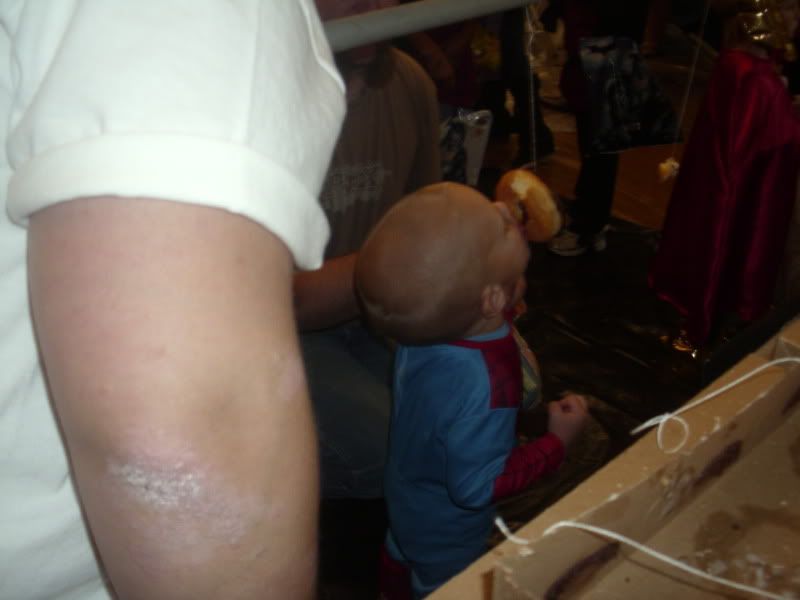 Lots of games, lots of candy, lots of really cute outfits to look at.
A few costumes werent' so cute - there was one college girl helping at the booth who seemed to not realize that this was a family party and was dressed as a sexy bat - you know, if bats wore booty shorts and corsets with their breasts hanging out - so that one made me laugh. Cute costume in the right situation - at a family party, she looked really out of place. There were also two - only two - guys in really scary masks. I was proud of Hannah who went up to talk to one of him even though - actually because - she was scared and asked to touch his Pinhead mask to be sure he wasn't real.
And Hannah actually got recognized once! A college girl dressed in a really pretty princess costume stopped her and said "RAVEN!!! Oh, that is the coolest costume!" Made Hannah's day (and mine, to be honest). Ainsley never got recognized, though one lady stopped me and said "He is so cute! Is he Thor?"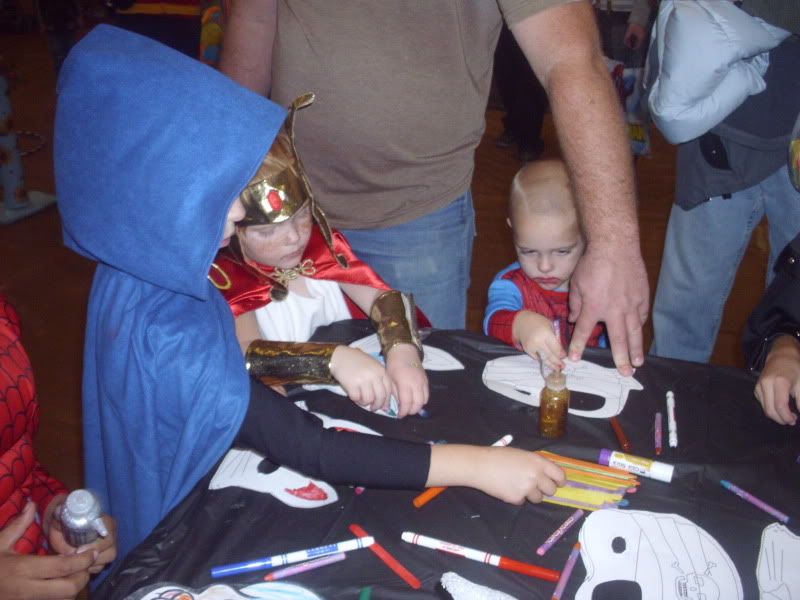 On Halloween night we went to Trick or Treating with my sister's family.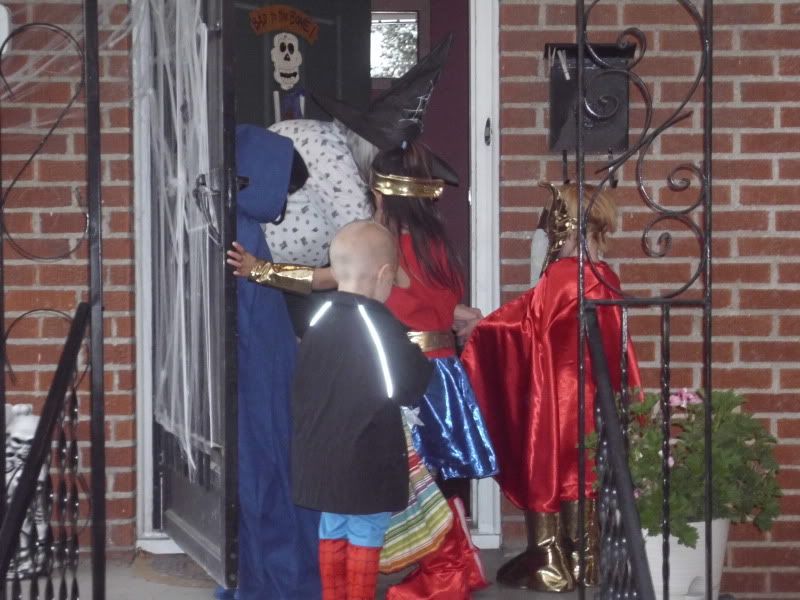 I was surprised that after an hour, even the promise of more candy wasn't enough to keep them going. I was fine with it, just surprised.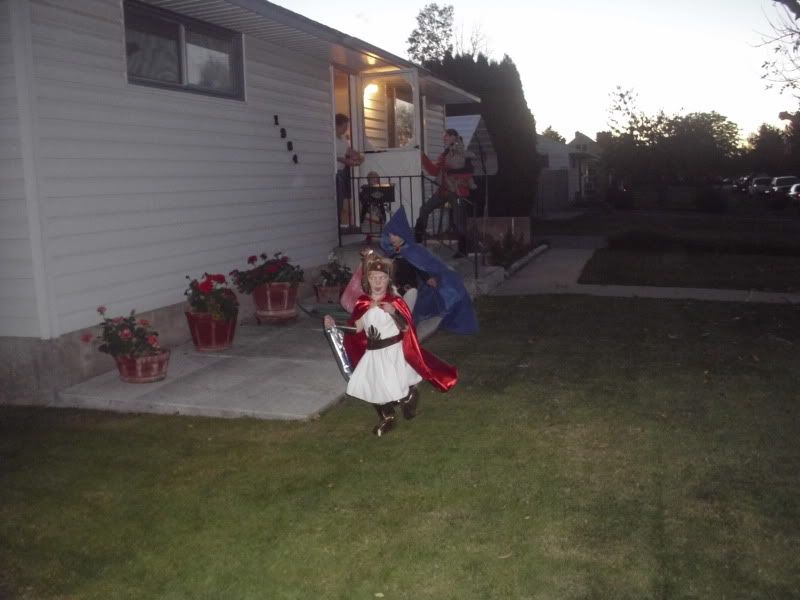 After all, they had been running for the whole hour.
Ooh, one more costume picture. My sister's little year-old lion.