As part of our long weekend last week, we stayed for a few days with my grandma. She's fading mentally - just so tired from a good, long life - and we want our kids, and us, to have as much time with her as we can.
I've noticed that each time we visit she's just a little more tired, a little more absent. This time she was not so aware. She would drift in and out of sleep in the middle of sentences, she seemed a bit frustrated by being so tired. She wanted to hold Zander, who she has met three times but didn't remember meeting at all before, but was worried about dropping him.
We stuck him in his bouncy chair in front of her and the two of them had so much fun talking and laughing to each other.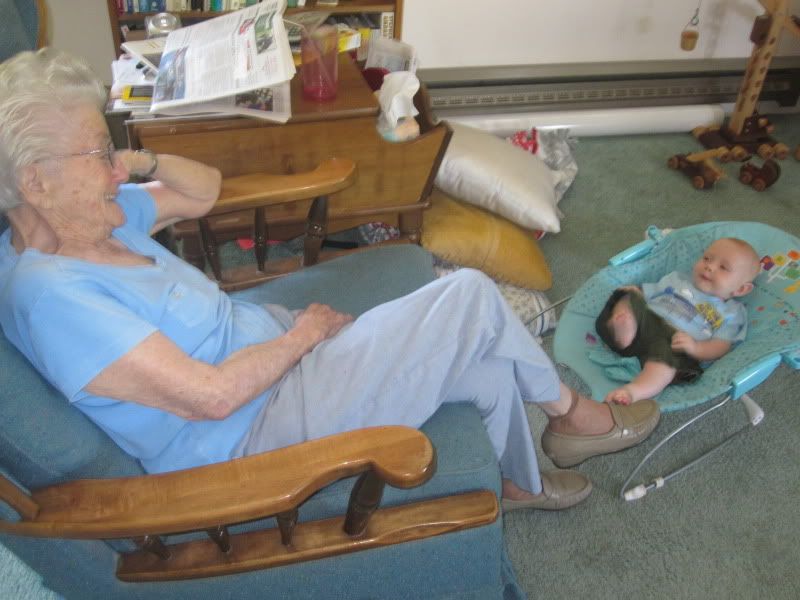 I've never heard her so silly with a baby, it was so sweet to listen to her chatting him up and encouraging his smiles and coos. And I've never heard Zander so chatty. He was chattering away so much that his shirt was wet with bubbles. He'd talk to her and she'd make sounds like she was in a conversation with him, then she'd talk to him about his life and he'd make sounds like he was listening to her. Then one of them would drift off to sleep. If it was her, we'd pick up Zander and then put him back when she woke up. So content with that situation, both of them.
It's so hard to see her getting so much older - she was a solid place for me in my childhood - but there was something so beautiful about the two of them together, one not far from the beginning and one not far from the end. 'Tis life.